Some posts contain compensated links. Please read this disclaimer
for more info.
It may not be the first destination that comes to mind when thinking about winter destinations in Europe—it's probably not even the second, third, or even sixth—but Romania is nothing less than stunning in winter.
Occupying much of the eastern Balkan Peninsula, Romania is one of the largest countries in southeast Europe. Home to the scenic Danube River delta, the spectacular Carpathian Mountains, historic regions like Transylvania, and amazing cities like Bucharest, Sibiu, and Brașov, Romania is an absolute gem of a destination.
And yes, you can visit Romania in winter, too! In fact, Romania's winter tourism is very much a thing in this underrated Balkan country.
From December to March, snowfall turns mountainscapes into winter wonderlands. While Christmas markets take place in vibrant towns, people head out to go skiing or snowboarding, and many centuries-old winter events and traditions survive in charming villages.
With this Romania in winter travel guide, we hope to inspire you to visit Romania in January, February, or December, which is, of course, the most festive month of the entire year.
Below, you'll find an overview of the best places in Romania to visit in winter, along with suggestions for things to do in each destination in Romania in winter.
5 Best Places To Visit In Romania In Winter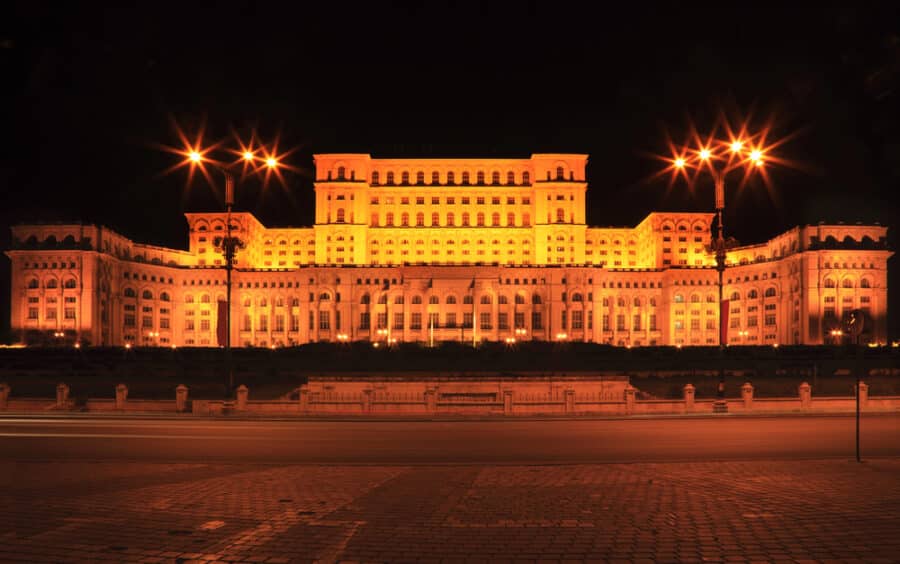 While winter brings a wealth of sights and events to towns and cities all over Romania, there are a handful that really stand out.
Assuming you're visiting Romania in winter as a typical tourist, the following places should be at the top of your travel list. They're the very best Romania has to offer, super-popular in summer, but also totally amazing in the heart of winter.
Bucharest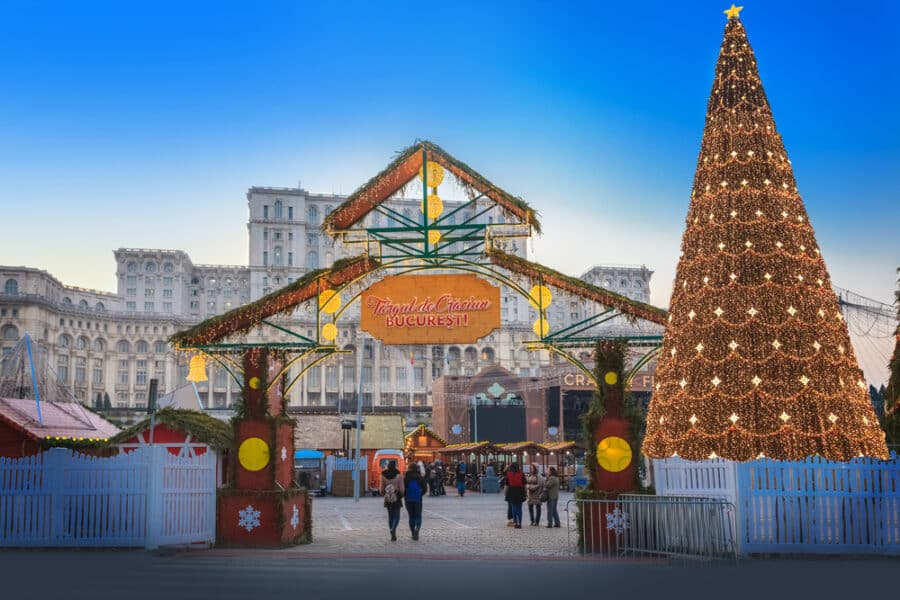 If you're wondering what to do in Romania in winter, trust us when we tell you that a visit to Bucharest will exceed all your expectations. The capital and largest city in Romania, Bucharest is home to numerous architectural landmarks, cultural highlights, and tourist attractions. Known for its stylish buildings and sophistication, this is easily one of the greatest destinations in this part of Europe.
When visiting Bucharest, Romania in winter, you can enjoy pretty much the exact same things that you would in summer, too. After all, most of the top attractions in Bucharest are historical and/or cultural, including museum visits and walking tours. All of those are 100% possible in winter.
Examples of Bucharest highlights are the Palace of the Parliament, Revolution Square, the superb Dimitrie Gusti National Village Museum, and Old Town Bucharest.
However, what makes Bucharest such a great Romania winter destination, along with its other attractions, is the amazing Christmas market.
The vibrant Bucharest Christmas market is set up in a typical Viennese style, boasting all kinds of stands, shops, and wooden stalls. The scent of mulled wine, roasted chestnuts, and freshly baked cookies float through the crisp winter air while thousands of lights twinkle in trees and on historic buildings. Yes, Christmas in Bucharest is nothing less than magical. This alone makes visiting Romania in winter absolutely worth it.
Sibiu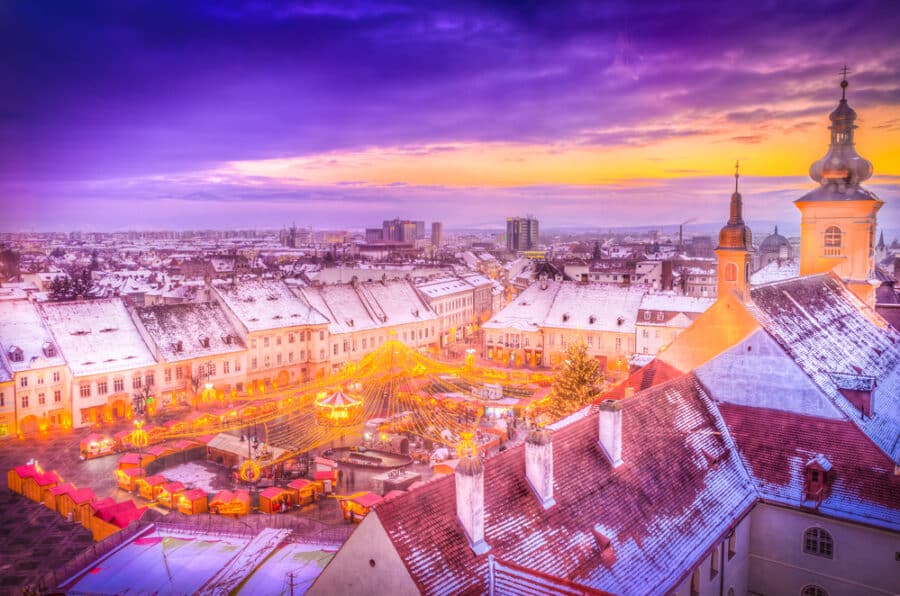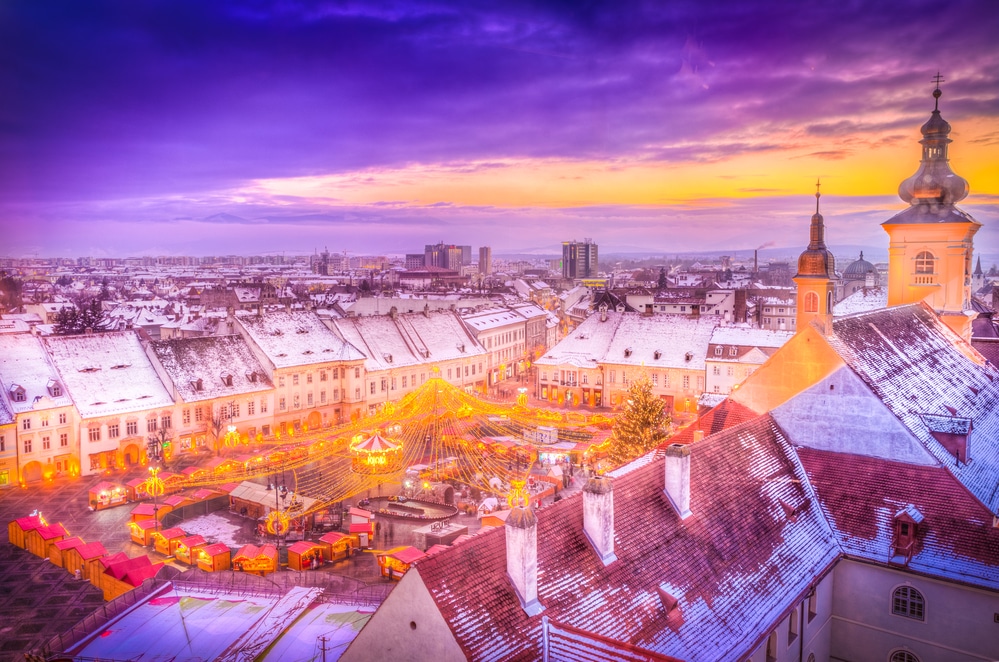 Previously ranked in the top 10s of Europe's most idyllic and charming cities, Sibiu is easily one of Romania's top destinations to visit in winter.
Located in Transylvania, Sibiu is also known by its German name Hermanstadt, which shows the region's Saxon history and heritage. This is a great base to explore Transylvania, Romania in winter, a city that oozes medieval flair, from its narrow cobbled streets in the Lower Town to the spacious square of the Upper Town.
Additionally, picturesque Sibiu also hosts a phenomenal Christmas market from late November to early January. Actually, the Christmas market in Sibiu is arguably the best in Romania. We even put it on our list of the best Christmas markets in the Balkans!
The Sibiu Christmas Market is a popular festival located in the center of the city at the Main Square of Sibiu and has been running for over ten years. Over 70 merchants from 20 countries set up stalls and small huts within the square to sell unique gifts and trinkets for Christmas market-goers to purchase.
To fully make it a Christmas market, visitors can sip on mulled wine and munch on roasted chestnuts while exploring the stands and stalls. You'll find everything from cured meats and cheese to local pies, handmade decorations, and sweet gingerbread here.
Children visiting the market will also have a great experience. Please bring them to the Little Gifts Factory, where they can make their own Christmas gifts to take home!
Covered by a dusting of snow, Sibiu's Gothic architecture, cobblestone streets, and lively square are truly fairytale-like. So, if you're researching where to go in Romania in winter, Sibiu is a fantastic option.
Brașov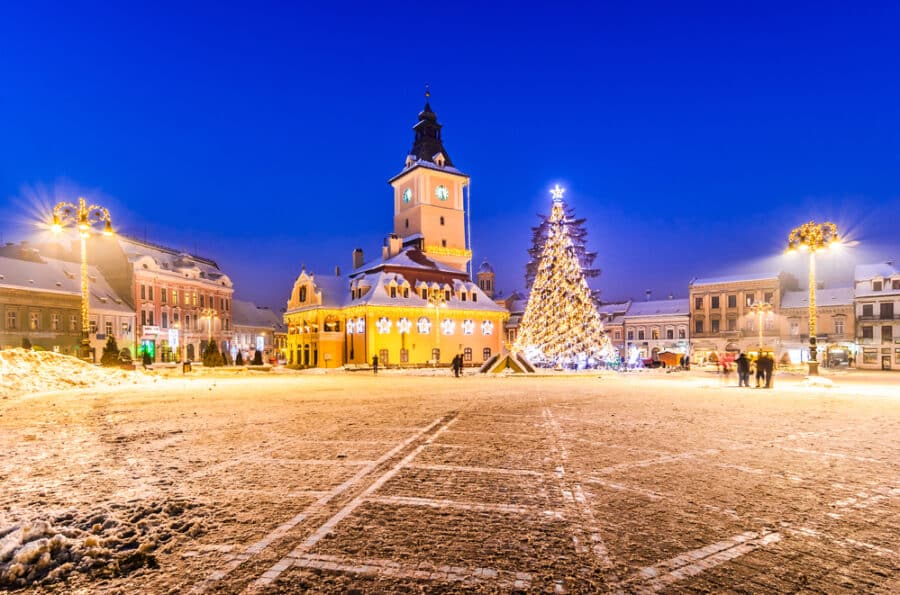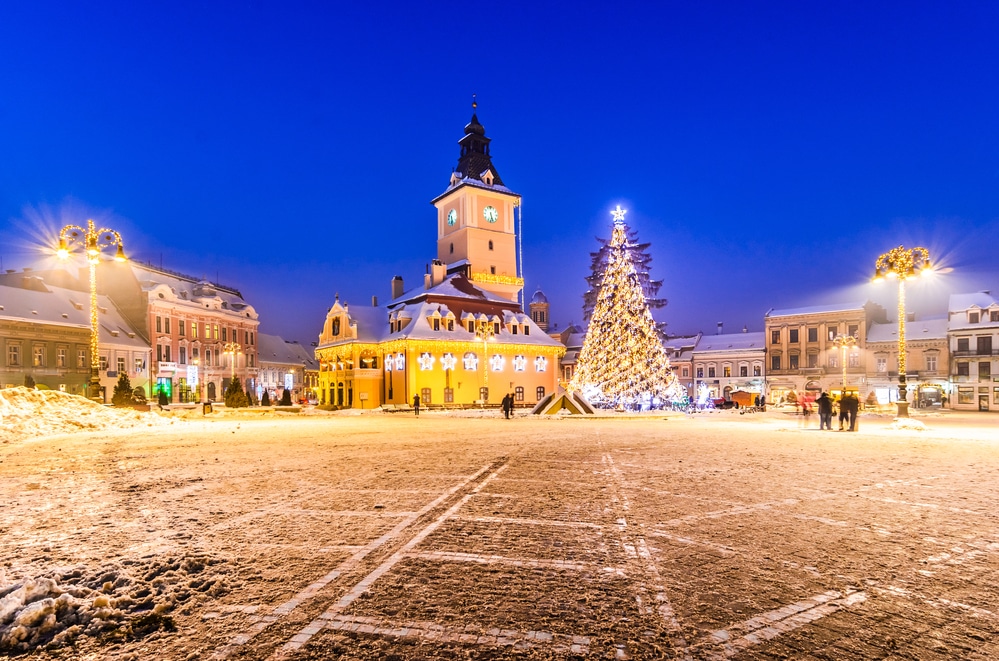 One of the most visited cities in winter in Romania, Brașov offers both historic urban charm and outdoor winter recreation. The best both winter worlds, in other words. Brașov, Romania in winter is simply stunning—we can't describe it in any other way. This is just a very, very beautiful city to explore in December or January.
This historic city sits in the heart of Transylvania, surrounded by the spectacular southern Carpathian Mountains. In summer, the mountains offer all kinds of activities such as hiking, camping, and biking, while winter brings some of Romania's best skiing and snowboarding opportunities.
A short drive from Brașov, you'll find the Poiana Brașov, arguably Romania's best ski resort. Featuring about a dozen slopes of various degrees of difficulty, it's a super-popular destination in winter.
Other favorite things to do in Brașov during winter include ice skating, horse-drawn sleigh rides, and simply enjoying the magnificent mountain landscapes.
And what did you expect? In the city itself, there's also a great Christmas market! The Brașov Christmas fair features all the typical Christmassy stuff, from countless flickering lights and carols to mulled wine, sweets, and just general merriment and joy.
Bran Castle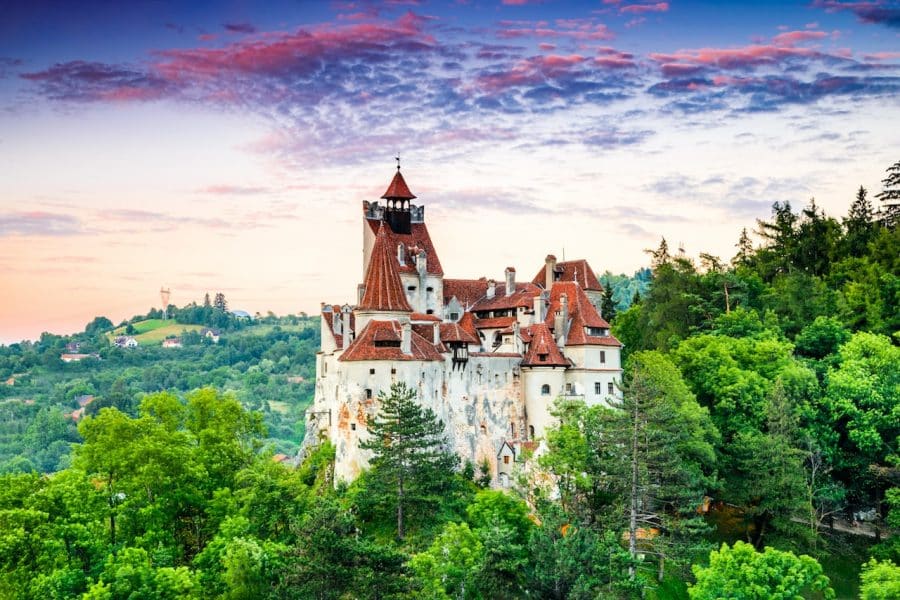 Out of the hundreds of castles—yes, literally hundreds!—in Romania, Bran Castle is probably the most famous. Built by the Saxons, this imposing castle is known for its association with the legend of Dracula.
Located in Transylvania, Bran Castle is strikingly similar to the castle described by Bram Stoker in his book. It's known far and wide as "Dracula's castle" and is one of Romania's greatest tourist attractions.
The castle has that iconic medieval appearance. It has dark corridors and rooms, towers that point high into the sky, and sits in the stunning green countryside. In addition to the legend, this is also just a very beautiful building.
When you visit Bran Castle in winter, you get that extra dose of charm, in the form of snow and icicles. It is exceptionally photogenic on a sunny winter's morning, covered by a fresh layer of Romania snow from the night before. The castle is open to the public and houses a museum. An absolute must-visit place in Romania!
Bâlea Lake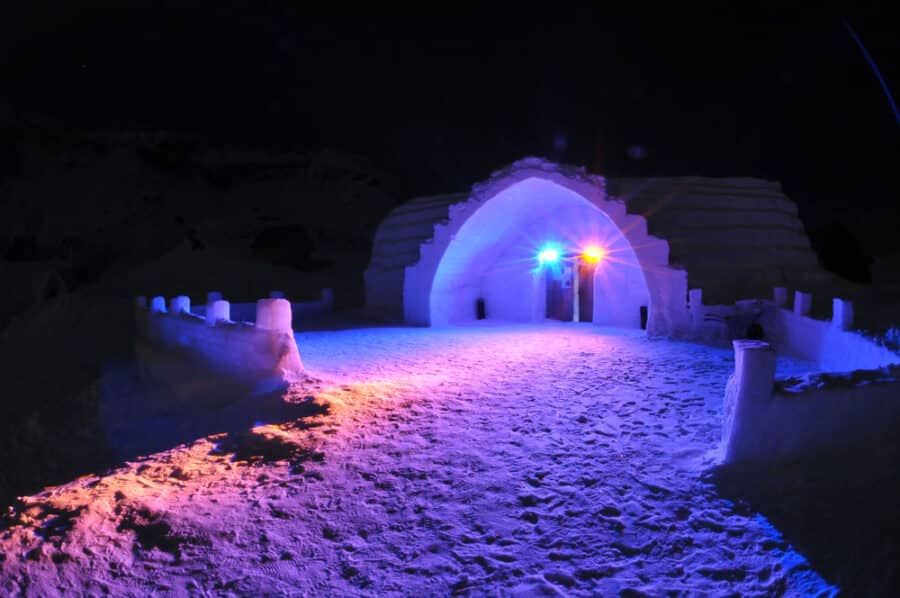 A glacial lake at the highest point of the iconic Transfăgărășan road, Bâlea Lake sits at the breathtaking—quite literally—altitude of 2,040 meters. This gorgeous lake is accessible via this mountain road in summer but can only be reached by cable car during the rest of the year, including winter.
The cable car starts at the Bâlea waterfall, one of Romania's largest, and runs up to the lake and its famous ice hotel. A stay at the Bâlea Lake Ice Hotel is easily one of the best things to do in Romania in January, or February, or December.
Built from scratch each year, the ice hotel is one of only a few in Eastern Europe and is open for three months during winter in Romania. It is basically a huge igloo constructed with blocks of ice.
There is an ice bar and about fifteen ice rooms, which come with warm and cozy blankets, pillows, and furs.
Top Ski Resorts In Romania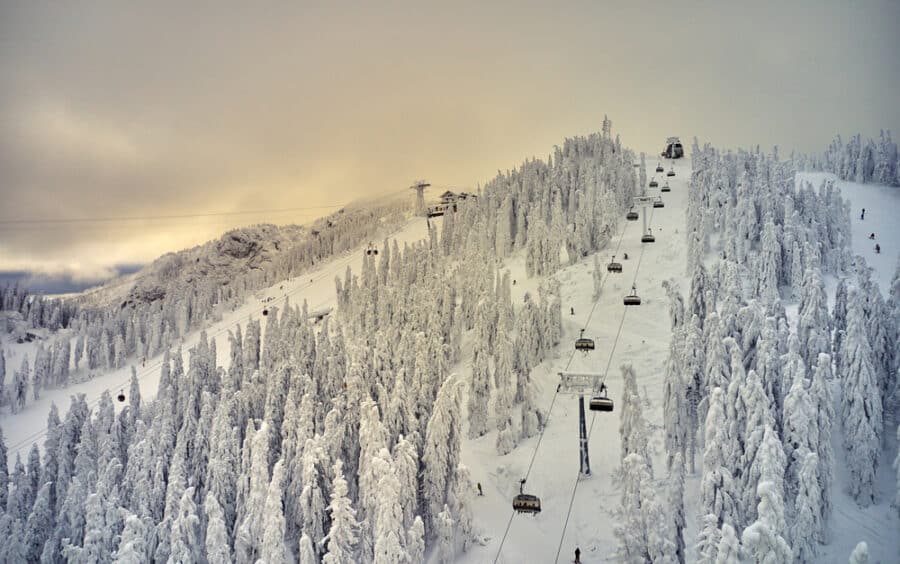 Home to the spectacular Carpathian Mountains, Romania has its fair share of excellent ski resorts. There are literally dozens of them, so how do you know where to go in Romania in winter if you want to ski or snowboard? To help you get started, we've listed the top Romania ski resorts for you below.
Poiana Brașov
Vatra Dornei
Transalpina
Sinaia
Predeal
Straja
Azuga
Hot Springs In Romania
If you'd like to enjoy the beautiful Romania winter landscape and visit its vibrant Christmas markets but don't really care for winter sports, there's another alternative for you. Romania also has numerous hot springs!
What's better than soaking in a natural pool of warm water in the middle of winter? That's right, almost nothing. Here are some of the best hot springs in Romania to visit in winter.
Băile Herculane
Vatra Dornei
Sovata
Călimanești – Căciulata
Băile Felix
Driving In Romania In Winter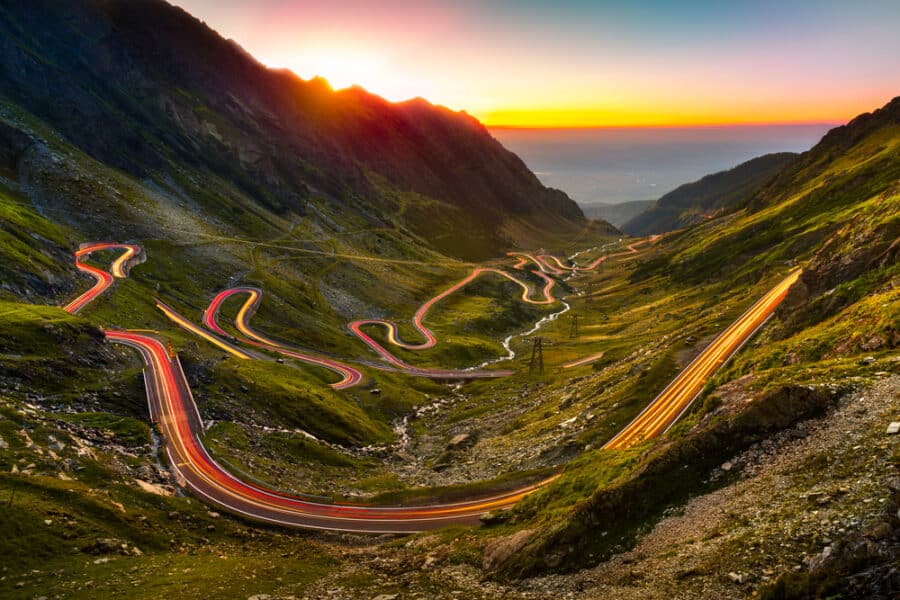 While roads in, around, and between the major cities in Romania are generally of decent quality, the conditions in more rural areas and in the mountains are not guaranteed to be good. In fact, out of 137 countries surveyed by the World Economic Forum in 2018, Romania ended up at number 120 in terms of road quality. That's not great, by any means.
The number of freeways in Romania is limited, while many secondary roads tend to be quite narrow, poorly lit, and lack markings. That's not to say that driving in Romania in winter is super-dangerous, though. It's just a good idea to be aware of the situation. If you stick to the major roads, you shouldn't experience a whole lot of issues.
If you are planning on driving into the mountains or exploring the countryside of Romania in winter, there are some safety suggestions you should take into account.
Many mountain passes are closed during winter. The open mountain roads may be covered with ice or snow. They can be pretty dangerous in winter.
Always make sure your car has winter or snow tires with deep threads, and consider carrying tire chains when heading into more remote areas.
Check your windshield wipers and wiper fluids before your trip.
Test the brakes of your car.
It goes without saying, but don't drink and drive! There's absolutely no tolerance for that in Romania.
How Cold Is Romania In Winter?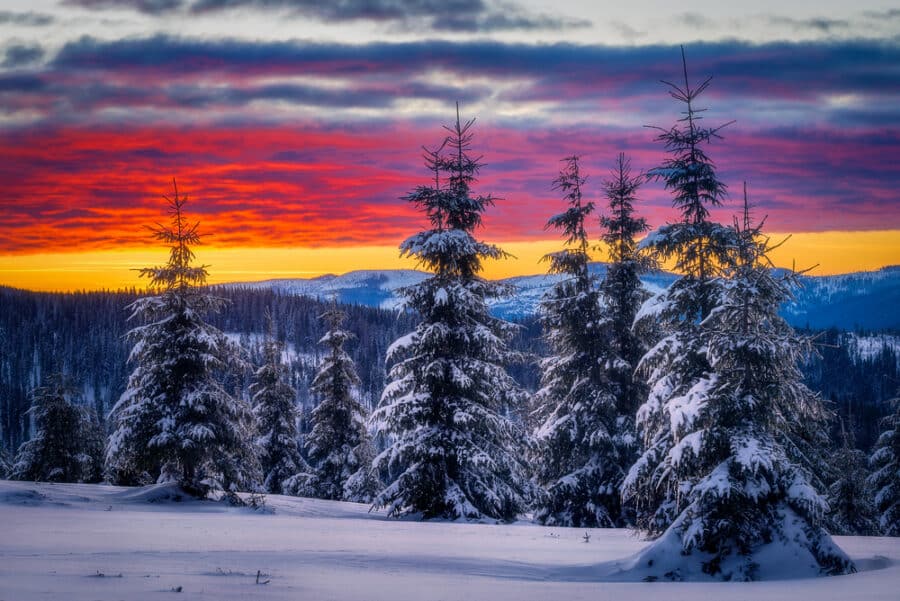 When researching what Romania is like in winter, you'll probably see someone say that Romania is "very cold in winter." And they'd be totally correct. Romania is cold in winter.
The country has a continental climate, which means its summers are quite hot, and its winters can be ice-cold. People traveling to eastern Europe in winter should prepare for serious winter weather and temperatures.
Typically, December and January are the coldest months in Romania, with the average winter temperature in Romania varying between 3°C and -15°C. In the mountains, the mercury can drop even (much) lower.
Winter in Romania also comes with significant snowfall. Romanian blizzards are no joke and are generally heavier than those in western Europe. Keep an eye on the weather forecast, especially if you're planning on driving somewhere yourself (as in, not on a guided tour or by public transportation).
It's those very snowfalls, though, that make visiting Romania in winter such a wonderful experience. Its winter wonderlands are stunning, from snowy city roofs to frosty trees and icy lakes.
These are the rough chances of having a white Christmas in Romania, including the top winter destinations in Romania, mentioned above, as well as some other major tourist towns across the country:
Sibiu: 85%
Brașov: 85%
Cluj: 85%
Bucharest: 75%
Timișoara: 70%
Here's some more detailed information on winter temperatures in some of Romania's top winter destinations.
December
Bucharest temperature in December, average high to low: 3.8°C (38.8°F) to -3.4°C (25.9°F)
Sibiu temperature in December, average high to low: 3.1°C (37.6°F) to -5.3°C (22.5°F)
Brașov temperature in December, average high to low: 1.5°C (34.7°F) to -5.2°C (22.6°F)
January
Bucharest temperature in January, average high to low: 2.8°C (37°F) to -4.8°C (23.4°F)
Sibiu temperature in January, average high to low: 1.8°C (35.2°F) to -6.9°C (19.6°F)
Brașov temperature in January, average high to low: -0.3°C (31.5°F) to -8.3°C (17.1°F)
How To Dress For Winter In Romania?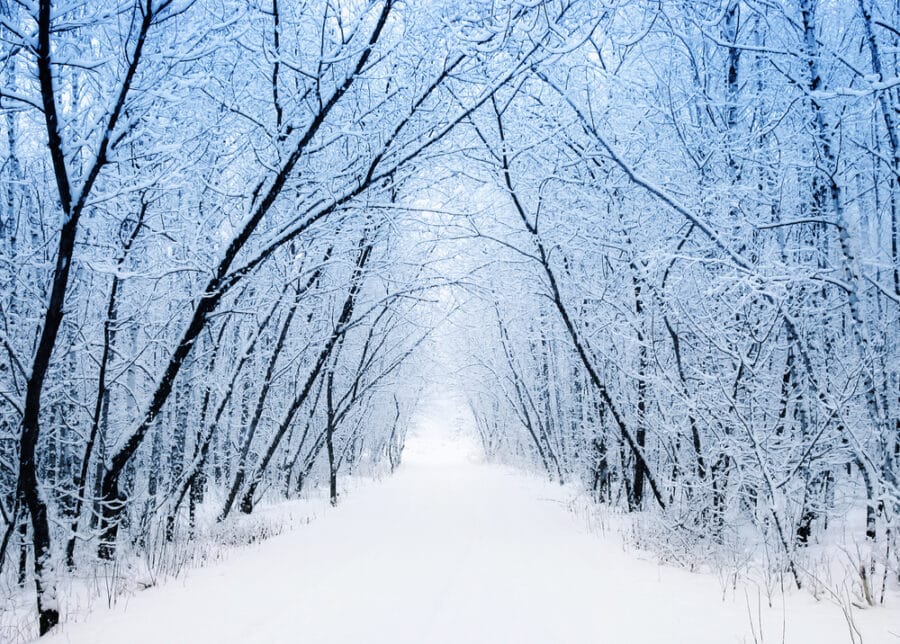 So, now that you have an idea of what the average winter temperature in Romania is, depending on location, it's pretty obvious you're going to have to dress warmly. You'll probably need to bring/wear your thickest down jackets, coziest mittens, and warmest hat. Packing a lovely scarf or two might be a brilliant idea, too.
Additionally, it's also essential to bring a good pair of solid winter boots. Make sure they're comfortable to walk in, waterproof, and, perhaps above all, warm.
Visiting Romania in winter is like spending time in a real-life fairy tale. In winter, Romania's mountains, castles, and towns are magical! So, where will you go first?
Share