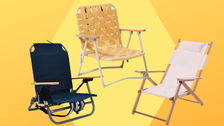 A trip to the beach requires a fair amount of cumbersome gear. Between coolers full of snacks and drinks, towels, a change of clothing, umbrellas, tents and seating options, the journey from home to sand can be an arduous one.
Beach chairs in particular are notoriously clunky and difficult to carry; even the most lightweight options are bound to slam against your shins or get dragged through the dunes. There is, however, an easy but oft-forgotten solution: the backpack beach chair.
By slinging your beach chair on your back, your hands remain free to carry the rest of your necessities. And lest you think these beach chairs sacrifice form for function, rest assured that they are both cute and practical. Keep reading for an assortment of surprisingly chic and sensible backpack beach chairs at a range of price points.