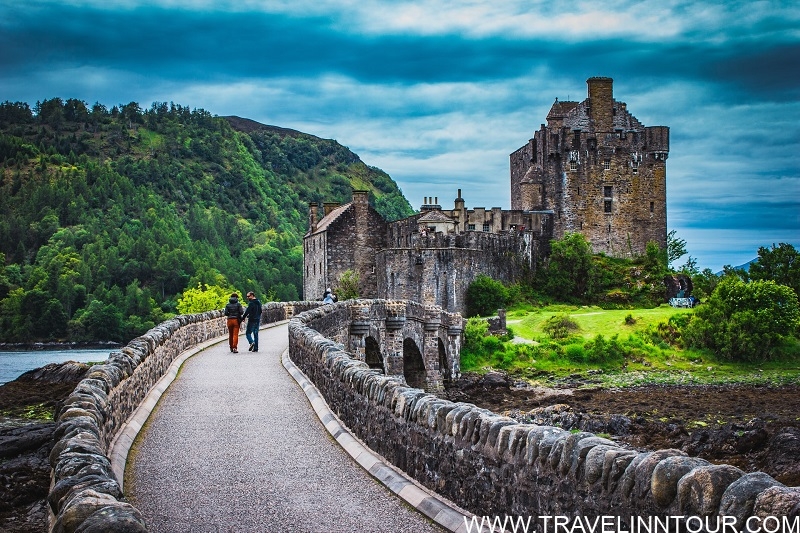 Remote Scottish Island Holidays 
Due to its mountainous terrain and grim weather, it is an ideal destination for an adventure vacation.
Neverland Island, where Peter Pan and the Lost Boys live is not a real island. It can only be found in the imagination of the famous Scottish writer Sir James Matthew Barrie (J.M. Barrie). But this "lost island" was inspired by the Scottish patriotic writer from a real one named "Eilean Shona". J.M. Barrie is said to have spent a family vacation at the beginning of the 20th century and wrote the novel, Peter Pan, from there.
This island is located in the (Loch Moidart) Scottish Highlands, known as the "Highlands" Inland Hebrides or " Inner Hebrides", and can only be reached by boat. It is approximately 4 hours from Glasgow International Airport. When you get on the island, however, there are no vehicles, bicycles, or other modes of transportation.
This remote island is magical, and its seclusion adds to its charm. J.M. Barrie described it in a letter he wrote from there to Cynthia, who was his secretary and keeper of his secrets, as "a wild, rocky, romantic island … and a haven on its wild beaches …"
Indeed, Eilean Shona island looks stunning with its waterfalls, tall trees, and dense forests. Its wildlife is magical. On the other hand, when you are walking, you may encounter a deer, a squirrel, or an orange-beak puffin that lives only in the mountains of Scotland. You can even explore the island in one day on foot. Its area does not exceed 5 square kilometers.
But this island is not for all adventurers. There are no restaurants, cafes, museums, or even grocery stores. There are beautiful, traditional little huts with no internet access and no cell phone signals. Its permanent population consists of only two people. A woman and her husband wanted to be alone and away from the world.
They have a boat that they take to the other side to buy a barrage of groceries and return with daily necessities, which they take from the small harbor to their hut, a half-hour walk. Sometimes they use a small four-wheeled vehicle to carry heavy luggage, and they drive it carefully through the small streets. In winter, they said, they have to store rations for weeks. Because stormy weather and rain mean they are "stuck" on the island, unable to use the boat for weeks.
The entire island is owned by one family, which is the Devereux-Branson family since 1995, they have rented out the tiny cottages on the island to visitors and tourists. And to it, tourists come with their merchandise that they will need throughout their stay.
If you don't enjoy solitude and introversion, there are several beautiful inhabited islands in Scotland's Highlands that haven't lost their natural beauty. It is not far from Elan Shona, a big island known as the Isle of Mull, which has a population of about 3,000 people and its largest town is Tobermory.
When you board the ship that brings passengers here from the sea, you will glimpse a row of colorful cottages beyond the harbor. The majority of the city and its center is made up of these beautiful oil painting-style cottages. Here you can find hotels and restaurants serving fresh seafood, and cafés offering all-night bands evenings.
The scenery on the island of Mull is very beautiful. Once away from the huts, you begin to discover the wild nature of Scotland's mountains. As you drive you may have to stop to allow long-haired Scottish cows, or a flock of sheep, to cross. There are pools of water among tall green mountains every few meters. 
The nearby Sky Island is also similar to the island of Mull in terms of its size, nature, and facilities.
Harris and Lewis islands in the "Outer Hebrides" may be a better option for people wanting "half-privacy." The two conjoined islands encompass more than 2,000 square kilometers and have a population of 21,000 people, with the main city of Stornoway in Lewis being home to the majority of the population. All that is left are large areas of natural wilderness, mountains, rivers, beaches, and cozy, peaceful cottages.
Getting to this remote island, which is about an 8-hour drive from Glasgow airport, and about a two-hour journey by boat, has become easier since the late 1990s when the Scottish government transformed the Stornoway military airport into an airport that receives commercial flights from major Scottish cities such as Glasgow, Edinburgh, Inverness, and others.
Here you can rent a traditional cottage in the remote areas of the island, especially in Harris, which is about an hour and a half by car from the main city of Stornoway. In Harris, you will enjoy relaxation and the beauty of nature. Not far from there are several cafes and restaurants that offer traditional dishes and fresh seafood. Also on the island is an open kiosk with pre-prepared frozen foods that you can buy and leave the money in the "trust fund". Here, no seller sells you and takes money from you. Just the food and the box and its written Honesty box with price guidelines for each meal. The stall is called "Croft 36".
Because of the island's location in the far northwest of Britain, near Norway, the weather on the island often rains, which increases its romance.
On this island is also a lot of history and ancient monuments, perhaps the most famous of which is known as the "Callanish Stones", which are a group of giant rocks of 5 thousand years old, some of which were constructed in a circular motion and the middle, something like proximity, and others close to them are lined behind and opposite each other. 
Historians have different interpretations of what it means, but it sure captivates everyone who sees it. Some believed that it was built with the purpose of worship, others said it was a lunar observatory It dates back to prehistoric times. According to popular stories by residents that the rocks were giants, and they have turned into rocks because they refused to convert to Christianity. In the seventeenth century, the people of Lewis called these rocks "phantom men."
Not far from the location of these rocks is the village of Garenin, which has a population of 80 people and is known for its old traditional houses known as the "black house," which were built more than 150 years ago, with thatched roofs and they were the traditional homes spread in the mountains of Scotland.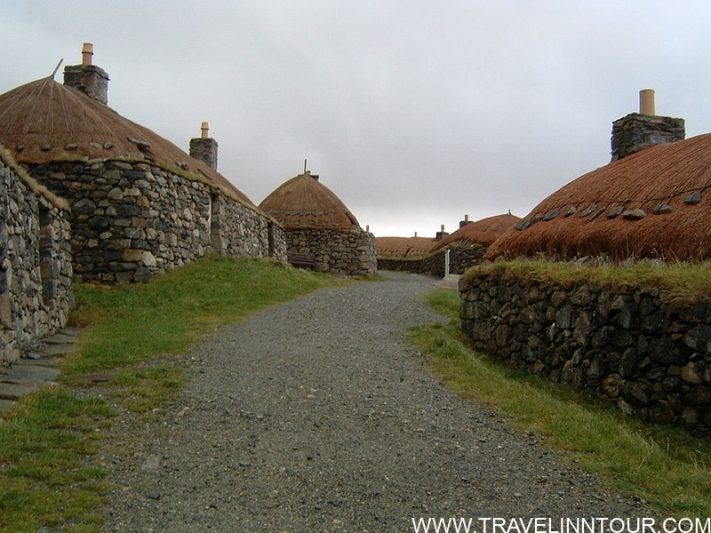 The part of the village, where these houses are, is called the Blackhouse village. Nine of them have been recently restored and opened to visitors, one of which has turned into a museum and the other a small café. These traditional houses were inhabited until 1974, and not only people lived in these houses, but also the livestock that was owned by those who lived in the house. They shared the same entrance but lived in different parts of it.
And there is more to this island than the beauty of nature and the tranquillity not far from the city. It is the center of the Gaelic or Gallic language spoken by the residents of Scotland's highlands. All the inscriptions on the streets, in the shops and restaurants, you can find it first in Gaelic, then in English. Although all regions and islands of the "Highlands" adopt Gaelic major, it is not usually spoken by the population, except on the islands of Harris and Lewis. Here you are walking on the streets, or visiting places you can hear the residents talking in Gaelic.
Although it is usually the language of the elderly, many young people and children have recently started speaking it before English and consider it their mother tongue. This is due to reforms introduced by the Scottish National Party government since it came to power in 2007.
On this conservative island full of ancient churches, Gaelic is heard in churches as well. It plays a major role in preserving that ancient language and encourages its use in masses, although the number of worshipers is usually limited to the elderly, while the new generation prefers the English language.
Not far from the port of the town of Stornoway, you will find a small white mosque, built between two churches only two years ago, to become the first and only mosque in all the islands of western Scotland, serving a Muslim community that does not exceed seventy people.
Despite the small number of Muslims in Harris and Lewis, they have lived there for nearly seventy years. They first arrived as merchants from Pakistan after World War II. Some of them settled down and opened shops to sell things that were not on the island. Muslims would gather in each other's homes to pray on holidays and occasions.
Today, although children have left the island for the interior regions and major cities to enroll in universities and search for better job opportunities, the number of Muslims on the island is still about 60 people. But their formula has changed. Today it is the vast majority of the Syrian refugees who were allowed to settle on the island a few years ago. So about 8 Syrian families moved to the island, with their children and women.
Although the island's Scottish residents are observant Christians, they welcomed the refugees as they did the Muslims seventy years ago. When the Muslim community sought to build a mosque, the majority of the population did not oppose it, and some participated in funding campaigns. Today, the Stornoway Mosque stands alone on the islands of western Scotland.
There is so much to see and not possible to cover everything in this short article. We recommend you must add remote Scottish island holidays to your bucket list. Please share and comment if you like the article? 
Save It On Pinterest