Royal Caribbean's Odyssey of the Seas spent the weekend in Port Canaveral to get its crew members vaccinated, and now we have a look at the ship from up in the air.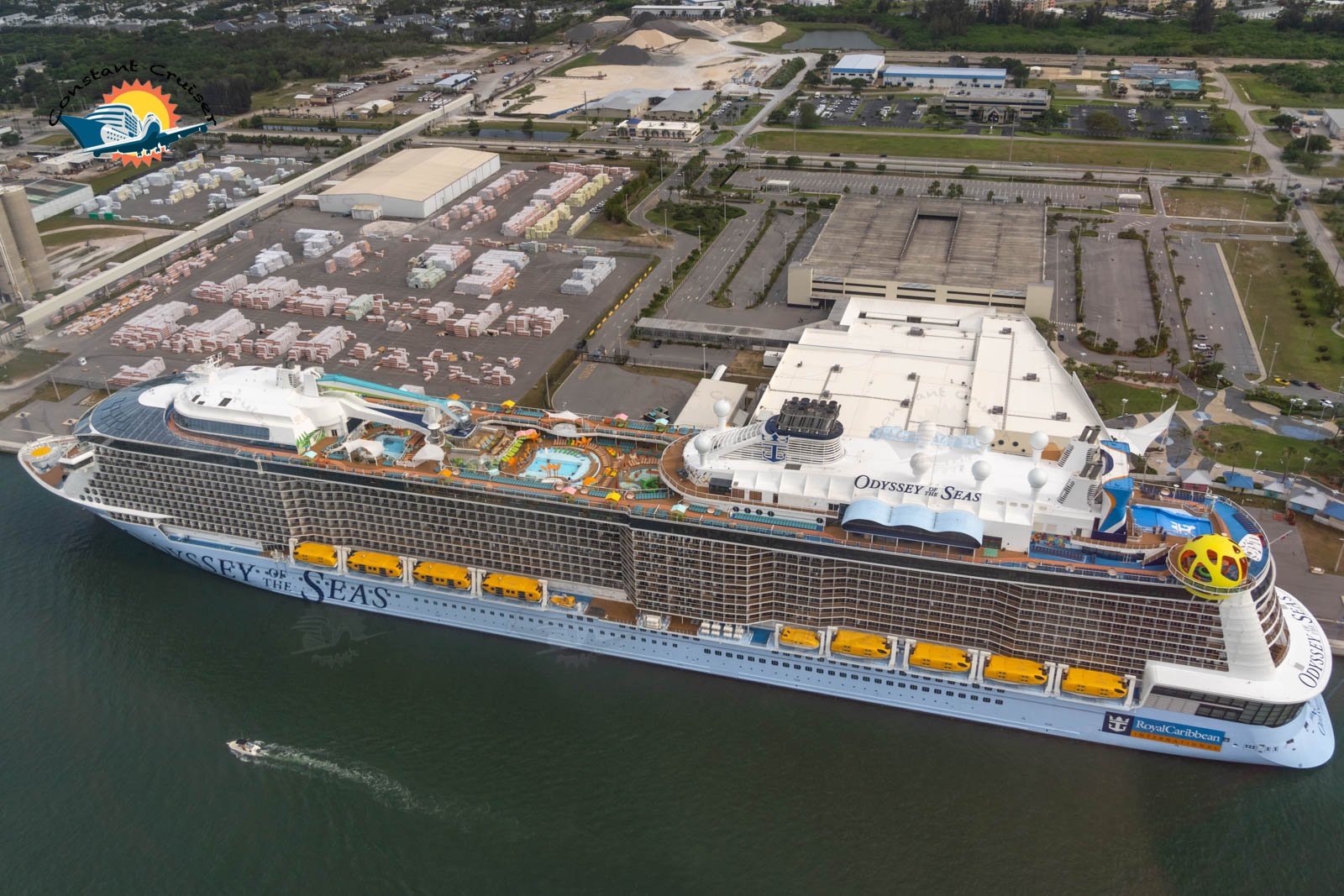 Royal Caribbean's newest cruise ship was a must-see for many cruise fans in Central Florida over the weekend.
Not only is a new ship attention-grabbing, but it is rare to be able to see a ship in one port for many days at a time.
Friend of RoyalCaribbeanBlog Constant Cruiser decided to take advantage of the ship being in port and rented a helicopter tour to bring him closer to the ship and see what Odyssey looks like at every angle.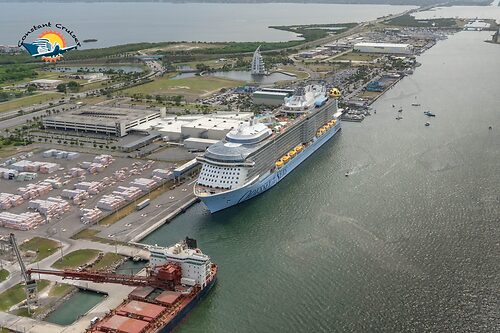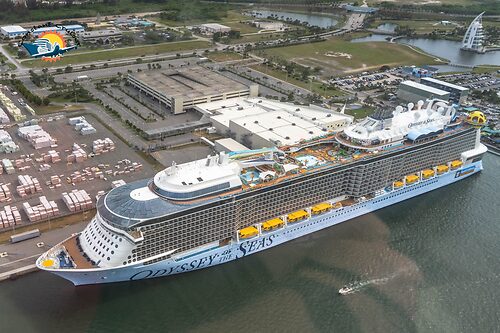 The 16-deck-high, 1,138-foot-long ship is one of the largest ships in the world, and can accommodate 4,180 passengers.
Odyssey of the Seas is the second Quantum Ultra Class ship, which is essentially a stretched and enhanced version of the original Quantum Class ships.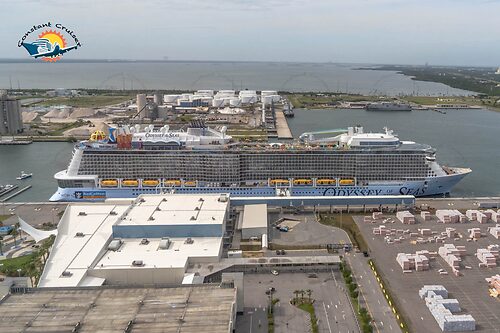 What you may notice first about Odyssey of the Seas when you take to the sky is her pool deck looks different than other Quantum or Quantum Ultra class ships.
Borrowing a feature from the Royal Amplified program, Odyssey of the Seas has an enhanced pool deck that Royal Caribbean calls a "Caribbean-inspired" pool deck.
Bright colors dominate the deck, which has a more open layout.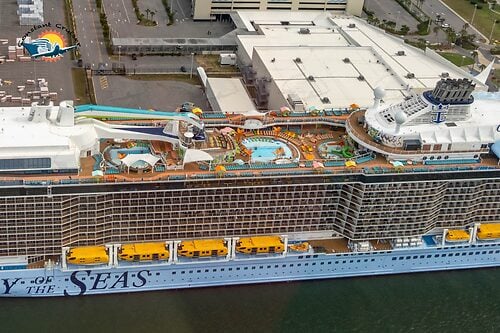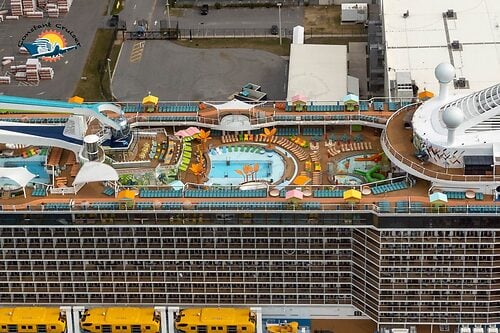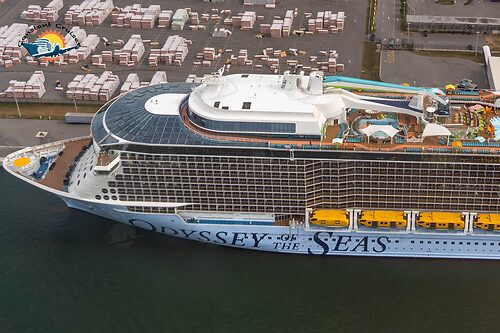 In addition, Odyssey does not have a secondary indoor pool for all guests.  In keeping with the Caribbean vibe, that area is now an outside pool as well.
Guests can also enjoy the Lime & Coconut bar right in the middle of the fun, and grab a bite to eat at El Loco Fresh.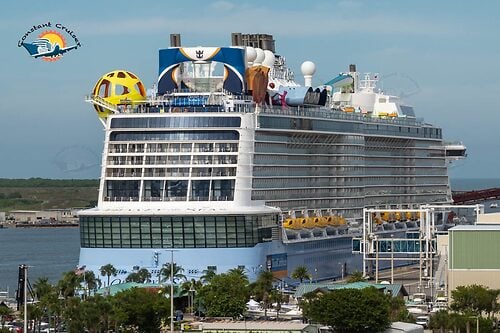 Just like all Quantum Class ships, Odyssey has three very noticable activities you can see on the top of the ship: North Star observational pod, the Ripcord by iFly sky diving simulator, and FlowRider surf simulator.
Royal Caribbean also added the SkyPad virtual bungee trampoline experience to the ship.
Something else you might notice if you look carefully is a new larger than life art, which this time features a magenta cat.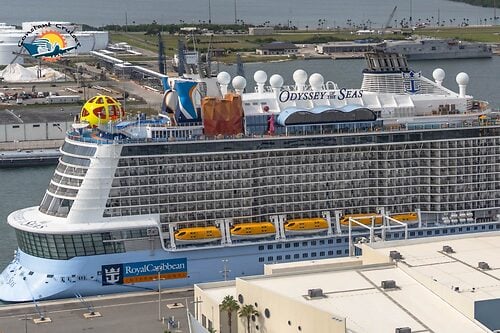 Each Quantum and Quantum Ultra Class ship features an animal, including pandas, a giraffe, and bear.
The plan now is for Odyssey of the Seas to make her inaugural cruises from Fort Lauderdale on July 3.
Neither Royal Caribbean or the CDC has confirmed when the ship might begin her test cruises quite yet.