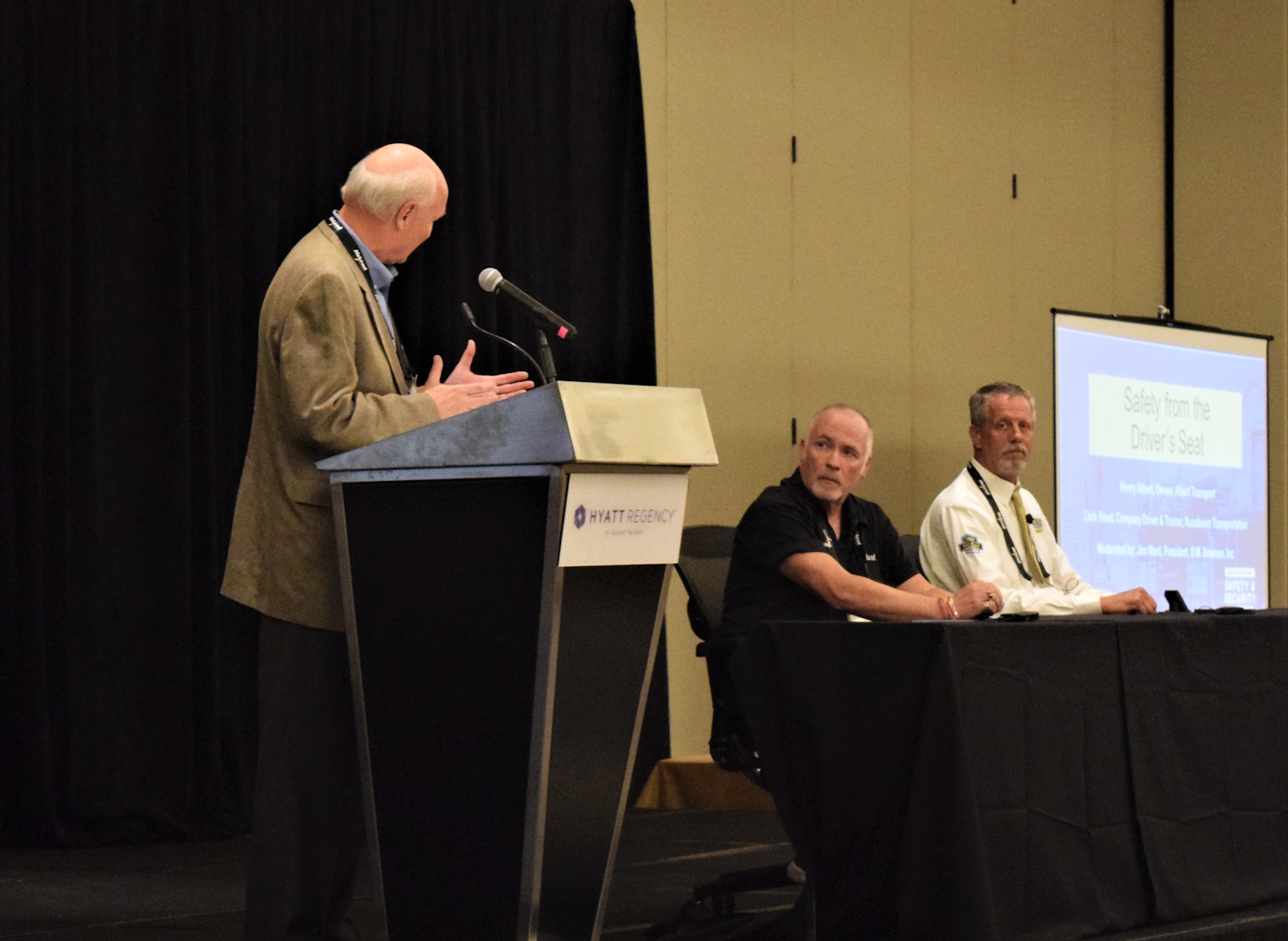 TCA Chairman Jim Ward (left), moderating a Sunday, June 6, panel with Nussbaum Transportation hauler Clark Reed (center) and independent owner-operator Henry Albert.
Are advanced driver assist systems (ADAS), such as collision mitigation, smart systems that clearly improve safety? Or are they idiotic systems causing needless distractions? 
They're best considered neither smart nor dumb, but they do require some getting used to, said panelists at the Truckload Carriers Association Safety and Security annual meeting Sunday, June 6, in St. Louis. Incoming Truckload Carriers Association Chairman and D.M. Bowman President Jim Ward moderated a panel that clarified issues of training and fine-tuning skills for operating trucks equipped with ADAS.
While truck dealer sales staff and others often emphasize just how "smart" these new trucks are, truck operators he's worked with often enough say the opposite, said one-truck independent owner-operator Henry Albert, the 2007 Overdrive Trucker of the Year. "They always want to tell me how stupid they are," he said. Clearly, someone's just not right here, he added.
Truth is, "Computers are not smart or stupid, they're operating on logic" programmed into them, he said. Once a driver fully understands how the equipment is programmed to react to various situations, the driver can effectively "keep the system in the background." If the worst happens and the system kicks in to help stop you in a true emergency, it could indeed "save someone's life." 
Also on the panel was Nussbaum Transportation driver Clark Reed, who with Albert also serves on Freightliner's "Team Run Smart" group of operators. Reed noted the problem for many drivers he's talked to comes when "we become too reliant" on such assist technologies. Reed helps train new drivers on the systems, and what both he and Albert emphasize is not to actively "use" the technology. Reed added that "the more we take the driver away from the experience [of directly controlling the vehicle itself], the more they'll relax and become lackadaisical." 
Albert noted a problem with human nature when it comes to technology as illustrative of that reality. When a new technology effectively creates a higher limitation on operation, whether better brakes or speed or something else, "we tend to drive right up to that new limit," he said. Drivers should think about collision mitigation and other assist systems not as limit extenders but as backstops.
[Related: Using collision mitigation to a fuel-mileage advantage] 
"The real key is to not use your safety systems," he added. "Don't drive up to that new limit." Rather, the goal ought to be to keep "driving like you would have driven if you didn't have any of the systems." Learn to anticipate what it's going to do, and make adjustments accordingly to prevent engagement in the first place. 
There is plenty reality to drivers' dislike of ADAS, Albert noted, because collision mitigation systems will do things you don't want them to do. He counsels even the most self-professed "open-minded" operators that "the first month, I guarantee it's going to irritate you. The first time it goes off for something you don't want it to go off for," braking when you aren't expecting it, for instance, "open-mindedness goes out the window."
He detailed such an instance on I-77 around tight curves across the Appalachians in West Virginia on a very open road. The braking system engaged when a steel hauler up ahead came into view, creeping along in a climb and in a tight curve, not directly in Albert's lane. His collision mitigation system's vision nonetheless interpreted the steel hauler as a reason to apply to brakes to maintain appropriate following distance. With knowledge of what the system's looking for, today he knows a brief tap on the throttle is enough to maintain driver control. That lets the system know he's engaged and prepared to handle what it's seeing up ahead.   
As the technology has matured and Albert's contact with collision mitigation techs in his own operation has increased, more independent owner-operators , many of them skeptical of ADAS, have sought him out for advice. More than a few feel that the systems have made them "a better driver," he said. Crucial in that process was that "they started out knowing it was going to irritate them" and then adjusted their outlook.
[Related: A litigious argument for collision mitigation]
Where's all the technology going? TCA chairman Ward, in a different discussion at the TCA conference, said the complexity of contemporary trucking equipment could well be a way to engage younger generations unlikely to  consider driving as a viable career. And while he acknowledged that momentum behind fully autonomous trucking operations is "moving faster than I could ever imagine," it won't diminish the driver's role. To the contrary, the complex skills required of "commercial vehicle operators" — his own preferred terminology over trucker or truck driver — might well qualify for the designation of engineer or other label that better denotes high-skill work. 
"We've got to start to change the stereotypes" that exist in the general public, he said. COVID and the pandemic experience has helped in that regard, he went on to emphasize, in some ways, yet Ward challenged the audience of safety department managers and staff to work harder to "change the mindset of the general public and make the job more attractive. We can't keep getting them to this industry just as a second career – it's up to each and every one of us to continue to change the mindset in terms of bringing people into our organizations. If the X, Y, Z generations and the Millennials could see how this new truck looks and how it works," he felt, it could help. "There's 20 different functions on the steering wheel itself."
Well into the future, as more-autonomous operations become reality, too, it's important that "we communicate to our commercial vehicle operators [that] the integrity and the protection of their jobs are still there. We have to get the word out to those individuals who are operating our equipment today [about] what that's going to be to them."