Some posts contain compensated links. Please read this disclaimer
for more info.
Arguably Bosnia and Herzegovina's most famous city, Medjugorje, is a world-famous Catholic Pilgrimage site where the Virgin Mary appeared to six local children in 1981 and continues to do so today. For that reason, Medjugorje has become very popular among Catholics, with millions of people visiting this holy site.
A day trip to Medjugorje from Split has become increasingly popular over the years, the town growing into a major tourist destination.
Split To Medjugorje Map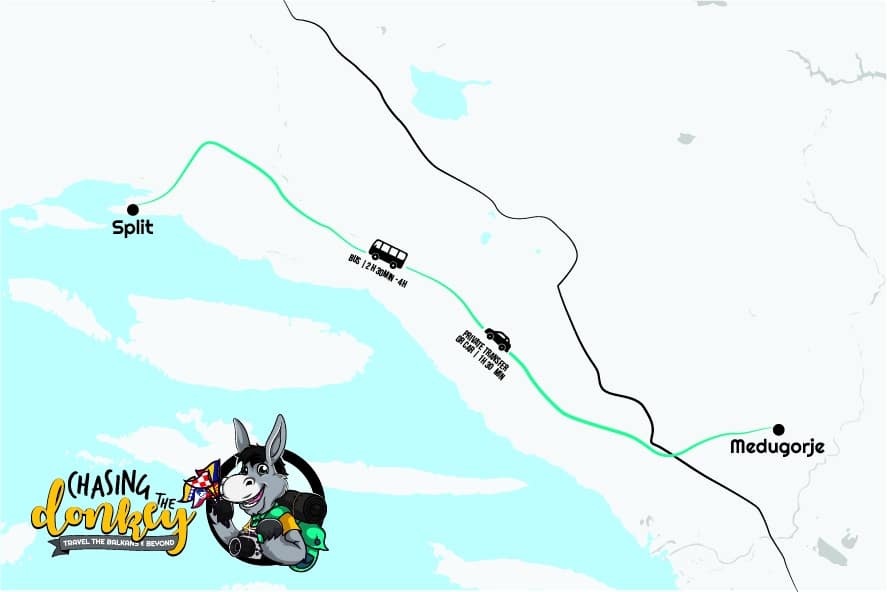 How To Get From Split To Medjugorje
Medjugorje is located 185 kilometers from Split. The journey takes anywhere from 1.5 to 4 hours depending on your mode of transport.
The bonus is that Medjugorje is only 25 kilometers from Bosnia and Herzegovina's other major attraction, Mostar. We recommend you visit both destinations while there!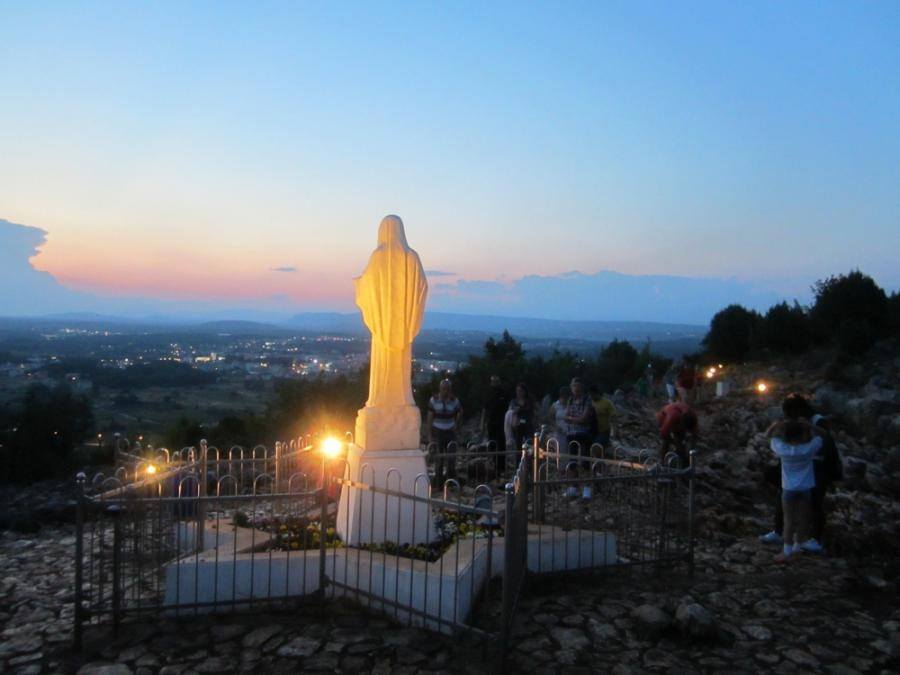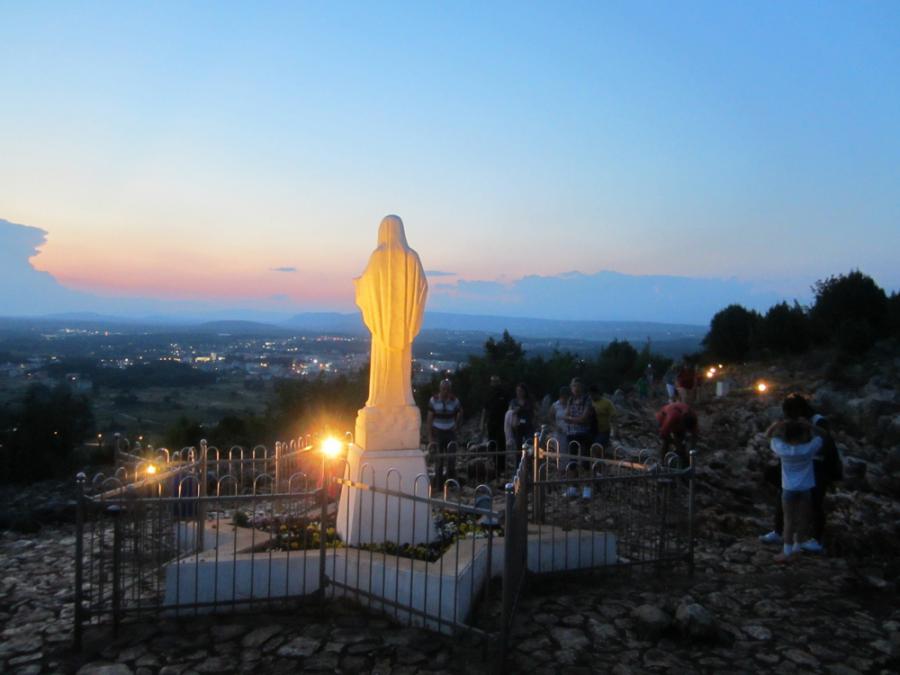 Split To Medjugorje Bus
As always, taking a bus is your cheapest mode of transport in Croatia, and several companies will take you from the Split bus station or airport to Medjugorje. Travel times vary from 2.5 to 4 hours depending on the bus you take and the number of stops along the way. Bus tickets cost €7- €18.
The major drawback of a bus from Split to Medjugorje is that you are at the mercy of the Split bus timetable. So, if you are time poor or don't like traveling on a bus, this may not be your best option.
You can check out the Split to Medjugorje timetable online or ask at the central bus station.
Split To Medjugorje Private Transfer

By far the most time-efficient and comfortable mode of transport is to take a private transfer from Split to Medjugorje.
Your driver will pick you up from your accommodation or the Split Airport, and you will be on your way to Medjugorje. The best part of a Medjugorje to Split transfer is that you have ultimate freedom. You decide on when you leave, where you stop, and how long you spend in Medjugorje. You can use the vehicle to get around Medjugorje while there.
The travel time is about 1.5 hours, giving you more time in Medjugorje or time to visit both Medjugorje and Mostar should you wish.
A private transfer from Split to Medjugorje will cost you more than the bus, though. Prices start at €140 for a car that seats up to 3 passengers or €160 for a minivan seating up to 8 passengers.
With several people traveling together, a private transfer from Split to Medjugorje becomes very affordable. It allows you to travel in 5-star style for a fraction of the price of traveling alone.
For any inquiries and bookings for private transfers from Split to Medjugorje, you can contact Octopus Transfers.
Contact Octopus Transfers Croatia For A Quote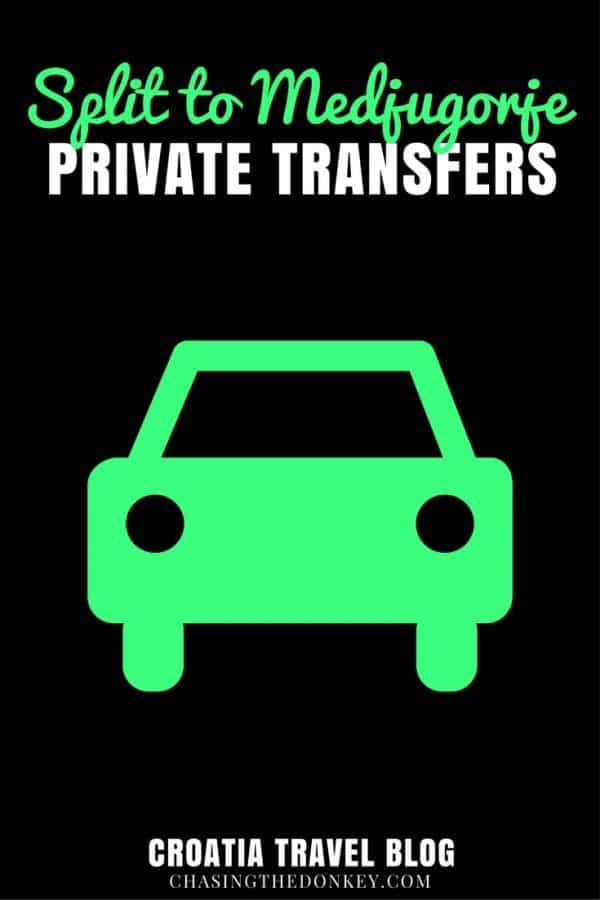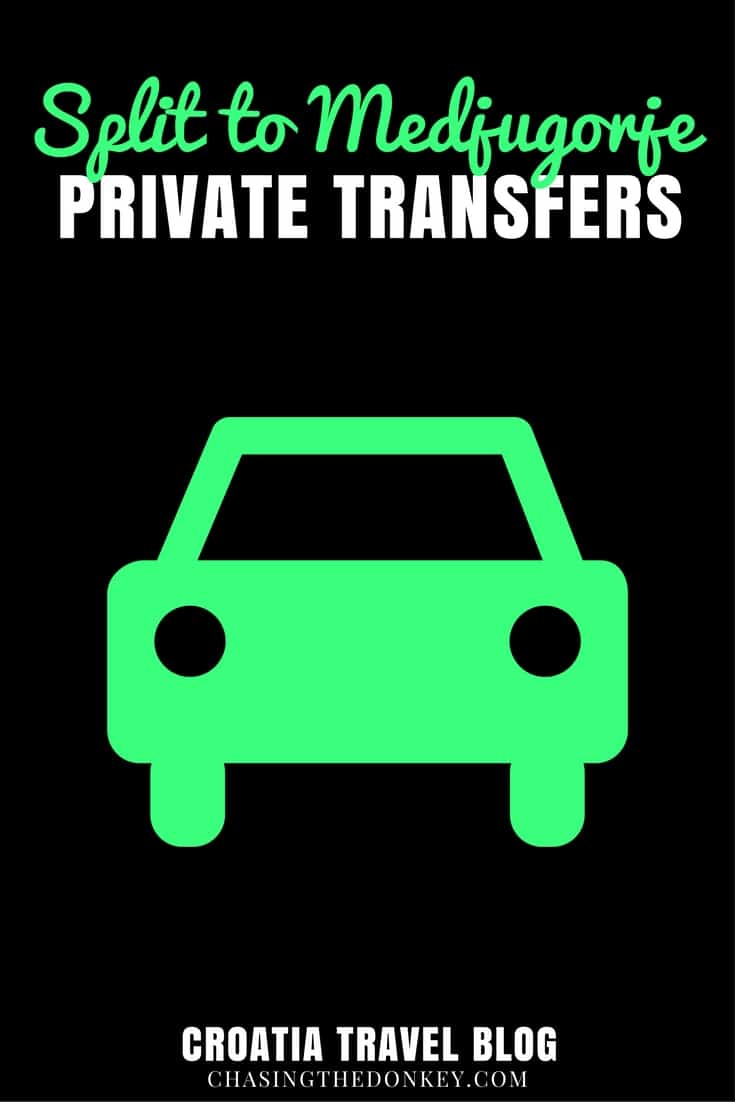 More Info About 
Medjugorje
A former poor wine-making town in rural Herzegovina, Medjugorje has become a major Catholic pilgrimage destination since, in 1981, the Virgin Mary allegedly appeared to six local children. Medjugorje hoax or truth? You decide.
Nowadays, the town, located just southwest of Mostar and near the border with Croatia, is a bustling tourist hotspot. And even though the Catholic Church hasn't officially acknowledged the legitimacy of the apparition, it continues to be a popular pilgrim's destination. Pope Francis announced in February of 2017 that he plans to send a bishop to the Medjugorje shrine to gain "deeper knowledge" of the pastoral needs of millions of Catholics drawn there by reports of apparitions of the Virgin Mary.
The local Roman Catholic parish encompasses five towns and villages. Besides Medjugorje, there is Vionica, Miletina, Bijakovići, and Šurmanci.
The Virgin Mary – Medjugorje Hoax Or Truth?
The first apparition of the Virgin Mary was reported on June 24, 1981, by two local children—Ivanka Ivanković and Mirjana Dragicevic. The next day, they and four other children—Ivan Dragicevic, Vicka Ivanković, Marija Pavlović, and Jakov Colo—reported another vision. Some of those six children, now adults, claim still to receive visits by the Virgin Mary almost every day.
The Virgin Mary is said to have first appeared to the children on a hill called Crnica in the village of Podbrdo. The vision was alleged of a white shaped person holding a child in her arms.
Our Lady of Medjugorje, as the apparition is called, is said to bring messages to the six people, who are called "visionaries," to whom she appeared. These messages, including "nine secrets," have found a following among many Catholics from all over the world.
Since the first apparition became known, Medjugorje has quickly grown into one of Europe's most popular Catholic pilgrim sites. Even though Rome hasn't yet acknowledged the apparitions, more than a million people visit the town each year, making it the third most important apparition site in Europe.
There's definitely some real and honest faith involved, but, as is the case with many of these locations, there's also an undeniable commercial side to it. You can read more here.
MORE TRANSPORTATION TRAVEL BLOGS
Share