Some posts contain compensated links. Please read this disclaimer
for more info.
With more than a hundred inhabited islands and literally thousands of other islands and islets, it can be challenging to decide which Greek Islands to visit. In this post, we'll try to help you choose between two of Greece's most popular and beautiful islands: Crete and Santorini—or rather Crete or Santorini.
Choosing between Santorini or Crete can feel like travel torture. "Why can't I just visit both?!" you might scream at your guidebook, favorite Greece travel blog, or flabbergasted partner. And while, yes, it is totally possible to visit both Santorini and Crete on the same trip, sometimes time constraints make it practically impossible to do so.
Don't fear or fret, though. A visit to "just" Santorini or "only" Crete is absolutely worth it, too. You don't have to visit both islands to have an unforgettable Greek island holiday. Each of these islands is stunning in its own way, whether it's thanks to beautiful Greek beaches, ancient historic sites, breathtaking cave hotels, or a vibrant nightlife. There's plenty to see and do on both islands.
To help you settle your inner doubts about the Crete versus Santorini question, we'll separately discuss each island destination. Hopefully, this overview will help you how to choose between Crete or Santorini. Let's go!
Why Choose Crete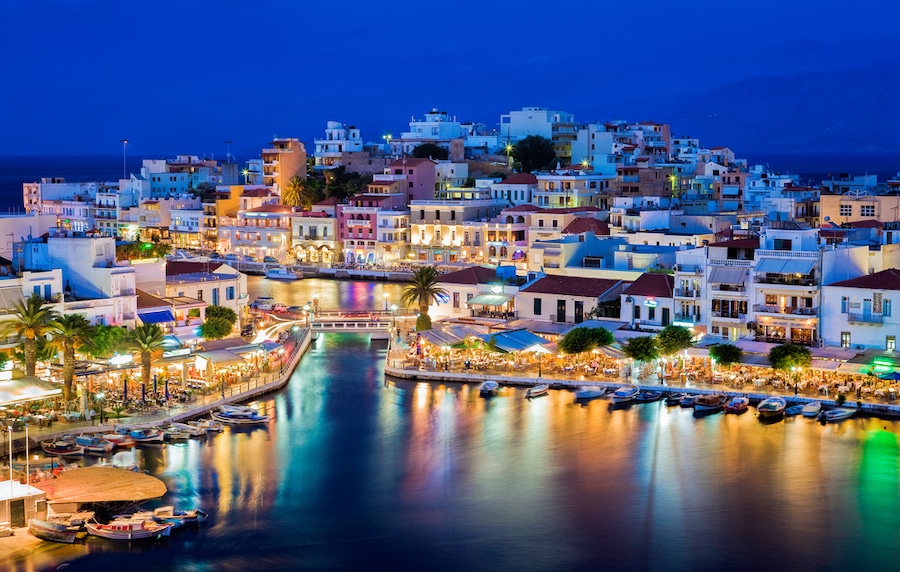 Crete is Greece's biggest island and one of the largest islands in the Mediterranean. A super-popular island destination, this is a place where you could spend a week or more exploring beaches and ancient sites.
Be aware that Crete is a pretty large island, though, and you might need a rental car or join some kind of guided tour to get around and see the top sights beyond the coastal cities.
The two main cities on Crete are Chania and Heraklion, both of which have transportation connections to Athens and other Greek Islands. Additionally, because it's so easily accessible from the Greek mainland, especially from the port of Piraeus, Crete is a popular vacation destination among local Greeks.
On Crete, you can spend your time enjoying epic beaches like Vai Beach, Preveli Beach, or Elafonisi, visiting the superb Heraklion Archaeological Museum, seeing the Monastery of Arkadi, hiking to Mount Ida, and so many other fun activities.
A mountain range crosses this mostly rocky island from east to west, offering great hiking and other outdoor recreation, while stunning sandy beaches line its shore. You'll find tons of accommodation options all over the island, from budget hotels to luxury resorts.
Why You Should Visit Crete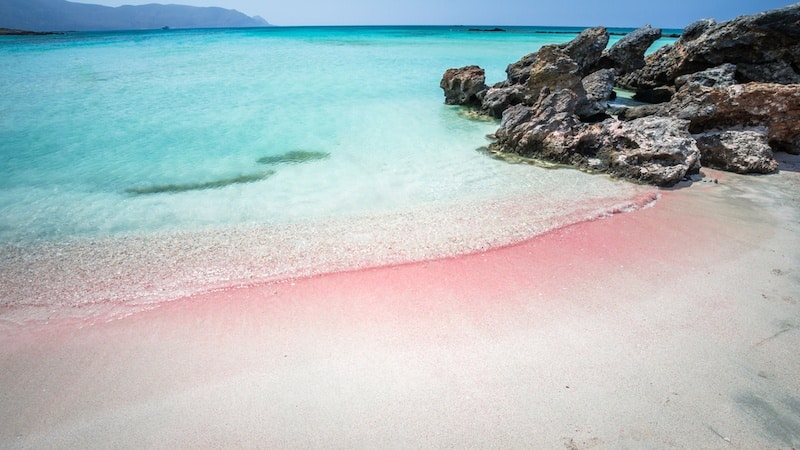 Is Crete worth visiting? Well, yes! Yes, it is. In fact, this is one of the greatest destinations in the entire Mediterranean Sea. That's a strong statement I don't make lightly—it's true. There are many reasons why you might choose Crete over Santorini.
Arguably the biggest pro of Crete is its amazing variety. As I said above, you could spend one or two weeks exploring Crete. You actually might need two weeks to really experience this stunning Greek island to the fullest. This is a great destination for an immersive Mediterranean island vacation.
Unlike Santorini, Crete is dotted with fantastic historic sites. This includes the Monastery of Arkadi, the Fort of Spinalonga, the Phaistos Minoan Palace, and, arguably the greatest of them all, the iconic Palace of Knossos. You can learn about the island's exceptionally rich history at the Heraklion Archaeological Museum.
Accommodation in Crete is much more affordable than the pricy hotels in Santorini. Numerous hotels, resorts, and even hostels dot the Crete coastline, keeping room rates relatively low.
Crete is extremely family-friendly. There are gorgeous sandy beaches where the kids can play and swim, while many hotels have kid-friendly amenities.
If you like hiking, Crete is the place to go for you. Trails crisscross the rugged mountain range that stretches across the island. A must-do hike is the spectacular Samaria Gorge, the longest of its kind in Europe.
Reasons Not To Visit Crete
While I typically don't like focusing on the cons of things—I'm an "always look on the bright side of life" kind of person—there are a few reasons why it might be better for you to visit Santorini instead of Crete. Keep them in mind while choosing between Santorini or Crete.
Crete is a huge island, by far the largest in Greece, and ideally, you'd need one or even two weeks to explore it fully. For most people, this would mean dedicating their entire holiday in Greece—or a large part of it—to one island. Perhaps not the best idea if you'd like to see other parts of Greece, too.
Because Crete is so big, you'll need your own car or use public transportation to get around. This increases your budget for a proper Crete vacation.
If you're limited on time, you'll need to travel to Crete by plane from the Greek mainland. Ferries from Piraeus take at least 6.5 hours but can often last 10+ hours.
While some great accommodations cater to couples in Crete, Santorini wins the "romance contest" hands down. There's arguably no more romantic destination in Greece than Santorini.
How To Get To Crete
Crete is well-connected to the Greek mainland, particularly to the huge port of Piraeus, which is one of Europe's busiest passenger ports. There are also numerous ferry routes between Crete and other nearby islands. Crete is especially easily reached by ferry from the Cyclades island group, which includes Santorini but also Mykonos and Naxos.
Additionally, there are daily direct flights between Athens International Airport and airports on Crete, such as Chania and Heraklion.
Why Choose Santorini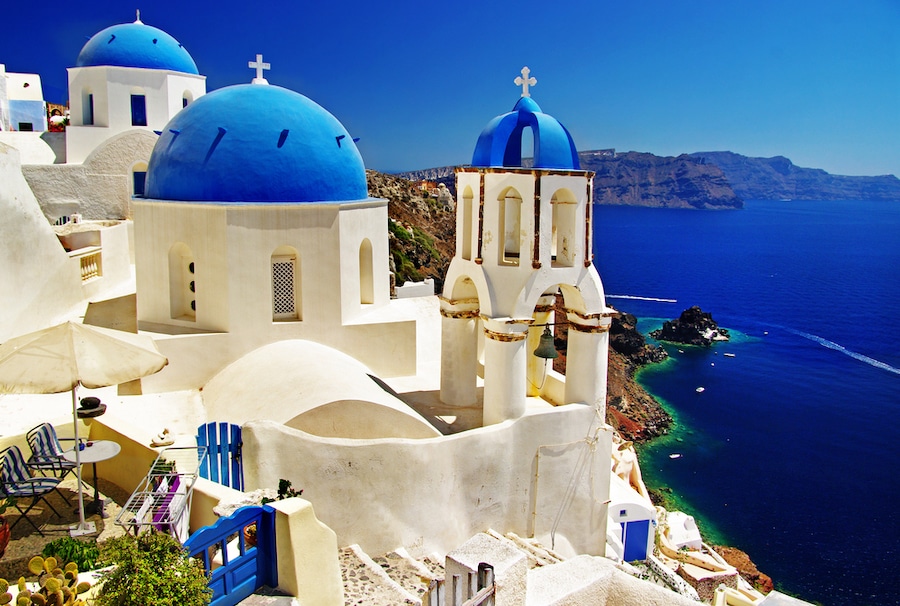 Upon arrival to Santorini, you will be mesmerized by the impressive views of the volcano, in striking contrast with the deep blue color of the sea that surrounds the island. Home to the most spectacular sunsets over the Aegean Sea, Santorini is an excellent place for a couple's getaway, a romantic escape, or even a honeymoon.
Santorini is the remnant of a volcanic caldera, formed after one of the largest volcanic eruptions in recorded history—the Minoan eruption—which might have been responsible for the decline of the once-thriving Minoan civilization in nearby Crete. The Santorini volcano is still active today.
Fun fact: the Minoan eruption in what is now Santorini might have been the origin of the Atlantis legend!
That little bit of history is just to set the scene. While there are some fascinating historic sites on the island, Santorini is now most famous for its striking white houses.
Especially the cliffside town of Oia is known around the world for its photogenic cliffside houses and spectacular sunsets. This is where you'll find many of the best Santorini cave hotels and Santorini cave villas. On the other hand, the capital of Santorini is Fira, built high atop a coastal cliff overlooking the sea and boasting beautiful white buildings.
Why You Should Visit Santorini
Just look at a picture of Santorini, and you'll know exactly why you should go and visit this breathtaking volcanic island. It's almost impossibly beautiful. Here are some other reasons why you might choose Santorini over Crete.
Santorini is unquestionably one of the most romantic destinations in Europe, if not the entire world. Its photogenic whitewashed hillside villages are delightful to stroll through, while the views are exceptional.
In fact, those views on Santorini are so amazing they deserve their own bullet point. Especially the northern village of Oia is famous for its sunsets. You can watch the sun dip behind the Mediterranean Sea while enjoying a glass of local wine on your own private balcony.
You can stay in a cave hotel in Santorini. Yes, you read that right. The volcanic rocks on Santorini's hilly coasts are quite carvable—is that a word?—and many hotels feature cave rooms, suites, and apartments. They typically feature whitewashed, domed rooms and hallways, as well as private hot tubs and balconies. Staying in a Santorini cave hotel is one of the world's greatest travel experiences.
Arguably more so than Crete, Santorini has become a gastronomical destination, too. On this small island, you can enjoy traditional Greek platters at taverns, sip on exquisite wines or refreshing cocktails, and indulge in fusion foods at high-end restaurants.
It's a place to really wind down and relax. Just because there's relatively little to do here—especially when compared with Crete—Santorini is a phenomenal place to kick back with a good book, enjoy each other's company, and simply sit and take in the epic views. Although it's very "Instagrammable," Santorini is also a top location for that "digital detox" we all need.
Reasons Not To Visit Santorini
While there are many, many, many reasons to visit Santorini, this island might not be ideal for your specific holiday under certain circumstances.
Santorini is significantly smaller than Crete, and, as such, there's much less to do in terms of activities. There are some interesting tours to join and wineries to visit, but this pales in comparison with the diversity and the sheer number of activity options offered by Crete.
Although it's a super-romantic destination, Santorini may not be ideal for families with children. Many accommodations cater to couples; few focus on traveling families. (However, we do have a guide to discovering Santorini with kids if you opt to take the whole family!).
Santorini is a destination visited by mainly international tourists, not by local Greeks people. This means that prices are higher in Santorini than they are in Crete. In short, Santorini is not a budget destination.
Santorini can feel very crowded in the high season, especially when a cruise ship has docked in the port.
How To Get To Santorini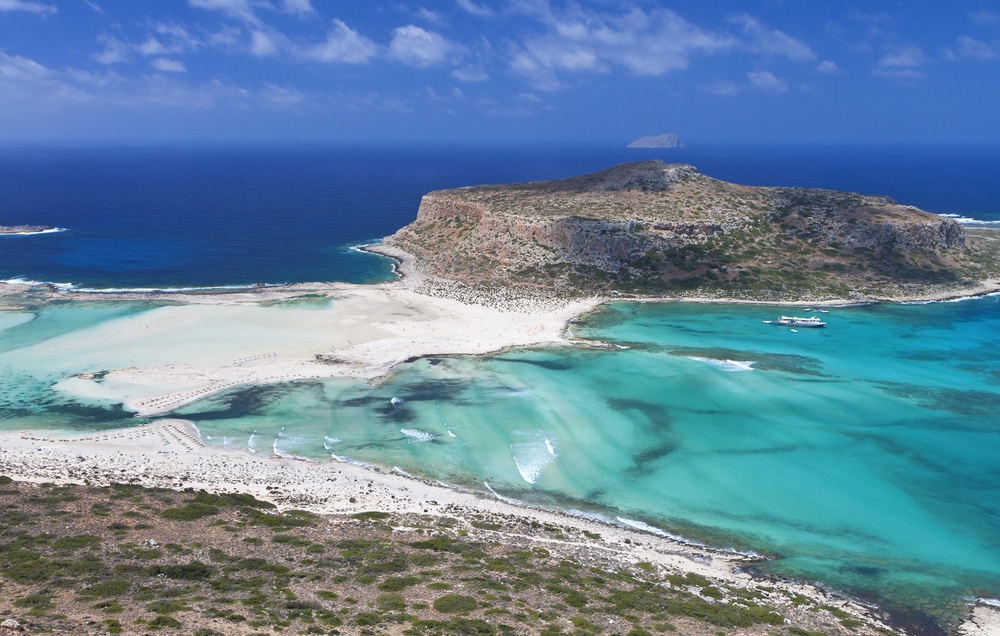 Getting to Santorini is pretty easy and possible in a couple of different ways. The fastest option is flying to Santorini, which you can do from Athens and cities in other countries. In addition to direct flights from Athens, there are direct flights to Santorini from, for example, Rome, Paris, and London as well.
If you'd rather take the ferry, Santorini has excellent links with other islands, including Naxos, Mykonos, Ios, Paros, and Crete. There are also regular ferries from Piraeus to Santorini.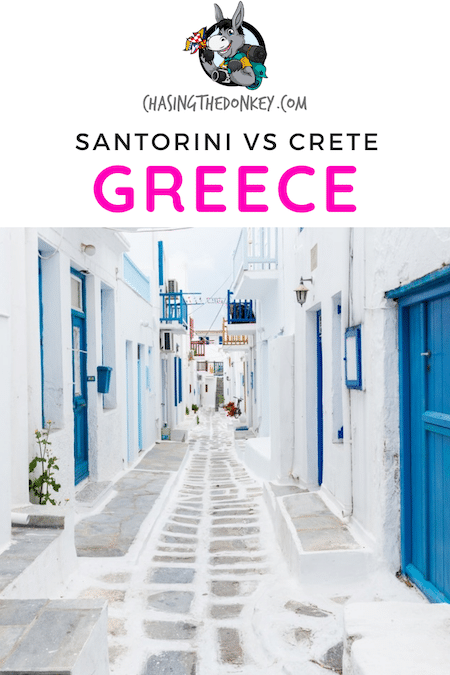 How To Choose Between Santorini Versus Crete: Accommodation
Generally speaking, hotels in Crete are slightly cheaper than those in Santorini because it's popular among locals and there's simply more of them. Crete's high supply and high demand keep prices relatively low, while Santorini's limited supply and extremely high demand increase rates significantly.
Crete is the better choice if you're traveling as a family with small(er) kids. This large island has excellent family-friendly hotels and fun beaches. On the other hand, Santorini is a popular choice among couples, particularly honeymooners, thanks to its breathtaking sunsets, scenic villages, and spectacular cave hotels.
Hopefully, this Crete vs. Santorini guide helped you decide whether to visit Crete or Santorini. Whatever choice you make, each island has lots to offer and is a world-class holiday destination. Enjoy your trip!
Share