Bestowed with winter snow-covered elevated grasslands, babbling streams, dense alpine forest, and a rich array of flowers, the Dodital Trek is one of the scenic trails in the Garhwal Himalayan region. The hike comes from the Bhagirathi Valley, which lies at an altitude of 1,350 meters and leads through a mysterious forest, and gently ascends at an airy height of 4,150 meters to the top of Darwa. With its surreal surroundings and peaceful surroundings, Dodi Tal is possibly one of the most beautiful mountain lakes in North India.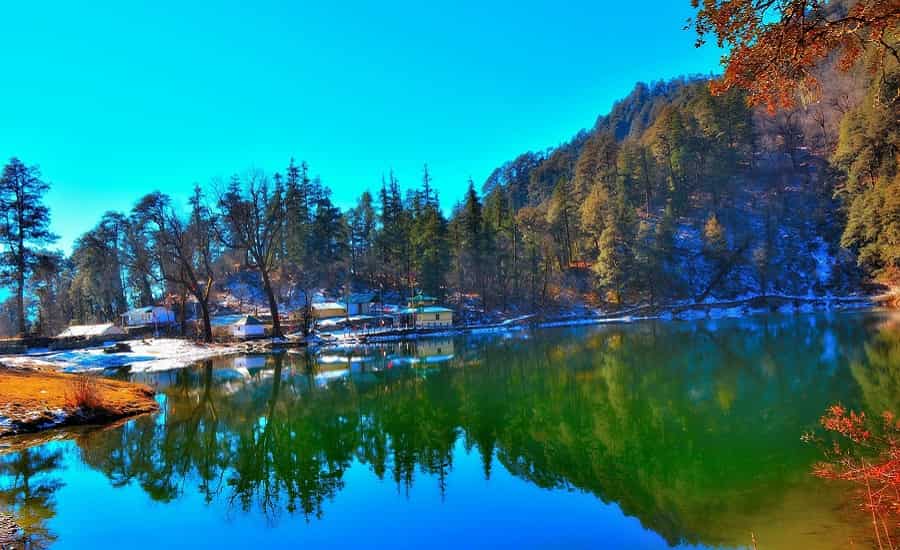 Often called the Ganesha Valley, Dodital is considered one of the sacred lakes in the Garhwal Himalayan region, as it is believed to be the birthplace of Lord Ganesha, one of the Hindu deities. The fascinating natural environment surrounding the tranquil lake is ideal for overnight camping. There is an opportunity to explore the Assi Ganges valley. Subordinate treks transport you from Assi Ganga to Bhagirathi Ganga Valley and Yamuna Valley and vice versa.
Mythology Associated with this Trekking Paradise
According to the mythological tales, Dodital is believed to be the birthplace of Lord Ganesha. This exciting trekking place is also called Dhundhital meaning Ganesh- Ka-Tal. Dhuni is a synonym of Ganesha hence, the place has been named so.
Locations of Dodital Lake Trek         
Dodital is to the north of Uttarkashi and the trekking trail commences from Uttarkashi or Kalyani, both are well accessible by road. Kalyani to Agoda is a gradual ascend through thick dense forests, green fields, and beautiful villages on a mule track. The hike from Agoda to Dodital is steep and goes through thick forests. The Yamunotri section of the hike is only possible in summer.
Major Highlights of this Exciting Trekking Trail
Explore the magnificent pilgrimages falling en-route and fill yourself with immense spirituality.
Witness the mesmerizing beauty of a crystal clear lake and enjoy the Himalayan trout.
Capture the awe-inspiring views of the verdant valleys viz. Bhagirathi Valley, Yamuna Valley, and Assi Ganga Valley.
Enjoy witnessing the glimpses of the snow-covered Himalayan peaks Like Swargarohini Peak and Bandarpunch Peak.
Scenic splendors, thick dense forests, and the lush green meadows catch the attention of thousands of trekkers.
Get to know about the ancient culture of regions followed by the locals.
Best Time to Visit Dodital Lake
April to June and then October to December are the two peak seasons to plan your trip to the Dodital Lake trek. Those who are looking for the Dodital Lake winter trek shall plan their holiday between January and March.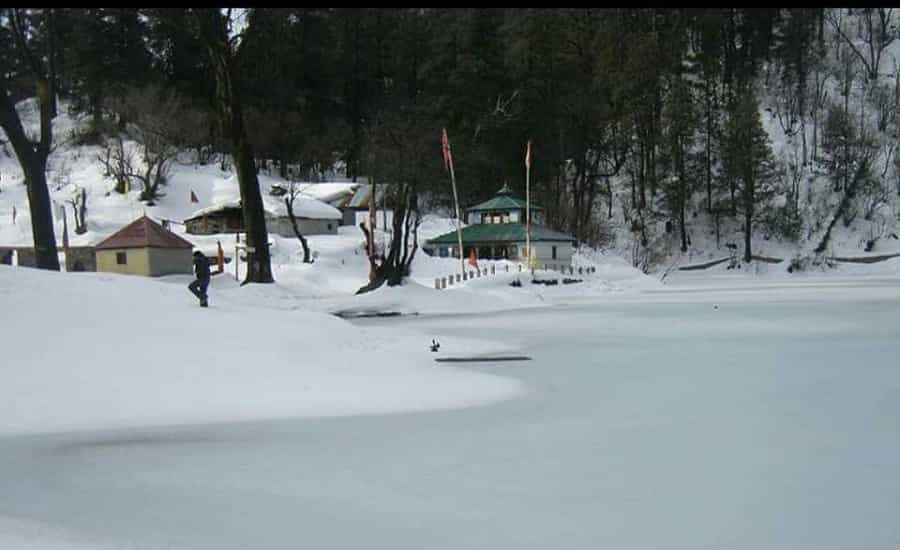 Dodital in Summer Months
During the summer months, the weather of the region remains salubrious and pleasing and the Himalayan Mountains are visible. Also, the cool and gently blowing breeze adds more charm to your vacation. The trekkers are advised to carry light woolens with them.
Dodital in Monsoon Months
The entire region looks super green during the monsoon months. However, monsoon season is not at all recommended to cover this trekking trail as it becomes quite challenging to climb up the slippery mountains. There are huge chances of you being trapped for a couple of days due to landslides but if you are ready to risk yourself then go ahead with the monsoon plan. Do not forget to carry an umbrella and waterproof jackets along with other pieces of stuff.
Dodital in Winter Months
Being elevated at a great height, the region receives a huge amount of snowfall. The entire region gets covered with the thick blankets of white snow. Also, the staying options are quite restricted and you get to find difficulty in arranging accommodation for night halt. The trek becomes indeed difficult but exciting too and you are advised to pack heavy woolens.
How to Reach Dodital Trek
Dodital Trek is nicely connected to most of the major or metropolitan cities in Uttarakhand. The beautifully narrated paragraphs below provide detailed information on how to get to Dodital Trek by road, train, or plane. The hike starts at the Sangamchatti (Kalyani) road near Uttarkashi and ends at Hanuman Chatti. From Lake Dodital you have to walk uphill to reach Darwa Pass and witness the mesmerizing views of the surroundings.
By Flight– Jolly Grant Airport in Dehradun is the closest airport to reach Dodital Lake. Located almost 25 km away from the city, the airport operates regular flights from different cities of the country.
By Train– Those who are planning to reach the destination by railways shall book their ticket to Dehradun Railway Station. Getting road transport from there is not challenging as you easily find them parked outside the station.
By Road– Regular buses are running between Delhi and other nearby cities to Dehradun. The buses generally drop you at Dehradun ISBT and then from there you have to reach Dehradun Railway Station to continue your journey towards home.
Dodital Trek Food Guide
One must be aware of the fact that you don't find any tea or food stall at this hugely elevated destination. Hence, you are advised to carry enough food with you while ascending towards the peak of this trekking trail. Also, if you are covering this trek with a group then hiring a local cook is a great idea so that you don't feel difficulty in satisfying your hunger needs. All you need to do is to set a camp for an overnight halt and arrange the raw materials needed to prepare the specific food.
Also, carrying some extra packaged foodstuffs keeps you full and energized throughout the journey.
Accommodation in Dodital Trek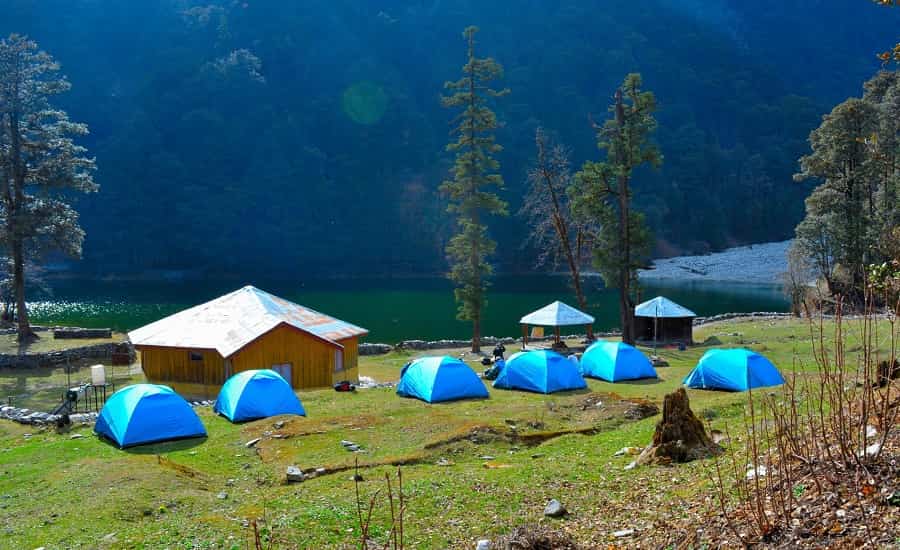 A couple of small yet beautiful huts and a Forest Rest House are established that provide staying options at Dodi Tal. However, the best way to accommodate yourself is either to get your tents or engage a reputed and trustworthy travel agency. While ascending towards the Dodital Lake, you can even accommodate yourself at Meraki Bharat Homestay in Agoda Village.
Travel Tips for Dodital Trek Guide
Below enlisted are a few of the must-followed travel tips if you want to prevent yourself from mishappening.
This easy to moderate level trek is 22 km long hence, the trekkers are advised to prepare themselves at least a fortnight before this adventure holiday.
Hiring an experienced tour guide is hugely recommended to accompany you on this adventure trek as he/she knows the entire route and can help you in covering the trail easily and conveniently.
It has never been great to think of planning an adventure trip to Dodital Lake in the monsoon months as the hills in the region become slippery. Also, the weather and climatic conditions at such elevated places are inconsistent and the region is immensely prone to cloudbursts, landslides, and roadblocks.
Don't try to be a superhero and always travel in a group of 3 or more trekkers. We also recommend you inform someone about your to and fro trekking plan to Dodital Lake.
Frequently Asked Questions
Check out the below-mentioned rundown of a few of the most asked questions about the Dodital Lake trek.
Q- 1 How difficult is the Dodital trek
Ans- This 22 km long trekking trail is an easy to moderate level trek.
Q- 2 How safe is it to cover the Dodital Lake trek during the monsoon months
Ans- It is not at all advised to plan your adventure trip to Dodital in the monsoon months as the region witnesses inconsistent weather. These hugely elevated regions witness unpredictable climatic conditions and are very prone to landslides. Hence, if you don't want to get trapped between the rocky mountains then try avoiding monsoon season.