Many people dream of traveling and visiting various countries of the world, but the exorbitant cost of travel often restricts this dream and prevents it from achieving it.
The following are the 12 Best Budget Airlines in the world for international travel, according to "Business Insider":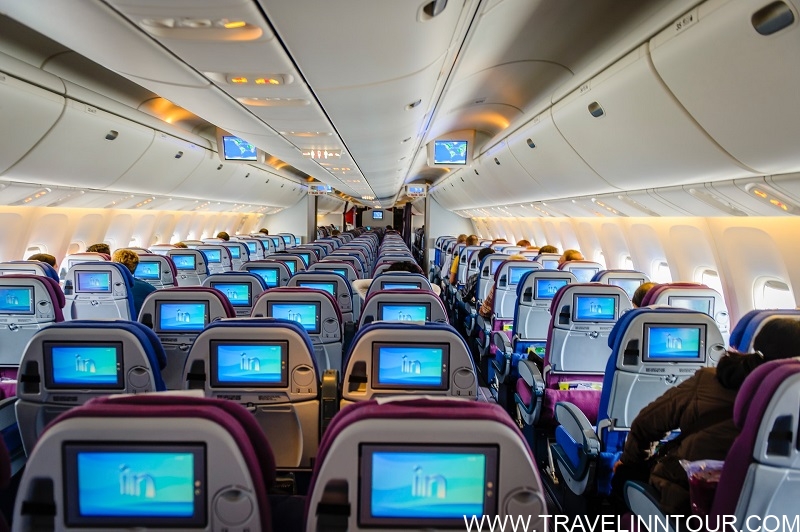 Best Budget Airlines In The World 
1. JetBlue Airways
Website: https://www.jetblue.com/
If you want to fly to the capital, Orlando, or even San Juan for the weekend, no problem, JetBlue Airlines makes flying whether it is a long trip across the country to San Francisco or a short one to Boston enjoyable, so the seating is comfortable and fun with leather seats and a very special TV screen. Equipped with 36 channels to pass the time quickly, they also offer free snacks such as chocolate cookies, potato chips, and coffee donuts. Before landing, coffee and orange juice are provided to help you welcome a new day.
Traveling between major cities in the Northeast, Southeast, and Western United States of America; The Caribbean selected cities in Mexico, Central America, and South America.
 2. Southwest Airlines
Website: https://www.southwest.com/
Southwest Airlines is now offering connections to many cities across the United States, the Caribbean, and Mexico, thanks to a new partnership with Tran Airlines.
Upon registration at the reception, you will receive the freedom of seat selection.
Traveling in major cities across the United States; Nassau, Bahamas, San Juan, Puerto Rico; Punta Cana, Dominican Republic; Montego Bay, Jamaica, Mexico City, Cancun, and Los Cabos, Mexico.
 3. WestJet
Website: https://www.westjet.com/
Founded in 1996 and headquartered in Canada, the idea behind Westgjet is that a customer should not get the least service just because they pay less for a ticket. The company has won numerous awards since then, and WestJet is also committed to investing in more environmentally friendly practices such as building more fuel-efficient aircraft.
 It offers flights to and from a number of Canadian cities, making it an affordable way to visit sites in Montreal, Vancouver, Winnipeg, Victoria, and Toronto in a short amount of time.
Travel out in major cities across the United States, Canada, Mexico, and the Caribbean. Major cities throughout the United States, Canada, Mexico, and the Caribbean
 4. Lan (LATAM Airlines)
Website: https://www.latam.com/
Because for those looking for an affordable way to explore South America, it is known that the lines are reasonably priced and cover long distances between the United States and a variety of destinations, and the airline also offers multiple entertainment options; Each seat has its own TV, and you can choose from more than 100 movies, TV shows, 25 games, and you can even customize your own music playlist.
Miami is now the main hub in the United States, but there are also flights from most major cities in the United States and Canada. In South America, destinations include Lima, Santiago, Buenos Aires, Montevideo, Rio de Janeiro, Guayaquil, Bogotá, Abaz, and Caracas among others. Domestic flights are also available in Colombia, Ecuador, the Galapagos Islands, Peru, Chile, and Argentina. Lan air is a good choice for cheap international flights. 
JetRadar Flight Comparison Tool
5. Icelandair 
Website: https://www.icelandair.com/
Want to make that long-awaited trip to Europe an interesting one? Thanks to Iceland, you have the option to add up to seven nights' accommodation when flying from the US and Canada to Europe at no additional cost to the price of your original ticket. If you've got free time, don't miss this opportunity for a few days and exploring this nation, home to a blue lagoon and gorgeous landscapes, and the rare opportunity to catch a glimpse of the elusive Northern Lights.
Search their website for special offers in the United States and Canada to visit attractive inexpensive destinations such as Oslo, Copenhagen, and Helsinki.
Iceland flies from New York City, Boston, Washington DC, Orlando, Minneapolis, Denver, Seattle, Halifax, and Toronto, to 25 major European cities and of course, Reykjavik, Iceland.
6. Aer Lingus
Website: https://www.aerlingus.com/
Originally established in 1936 to provide service between Emerald Isle and the United Kingdom, Aer Lingus is now the national carrier of Ireland, operating on 43 aircraft with more than 10 million passengers a year. Customers can check out the vast amount of entertainment that is attached to the Aer Lingus flight, as there is a wide selection of movies, TV shows, and music, as well as many radio stations, games, and Wi-Fi options.
Fly from major cities in the United States and Canada and various cities in the United Kingdom and all over Europe. Also from Puerto Rico, Sydney, Melbourne, Kuala Lumpur, Abu Dhabi, Bahrain, Oman, Morocco, and the Canary Islands.
7. EasyJet
Website: https://www.easyjet.com/
One of the best budget airlines, and flying to 3,000 destinations.
EasyJet is the largest airline in the United Kingdom, connecting 30 countries on 600 routes, carrying more than 59 million passengers annually, and providing the cheapest fares throughout Europe. If you hope to visit more cities in Europe or the Middle East, this airline makes travel easy and enjoyable.
Fly between all parts of the UK and between many major European cities; Moscow and various cities in Eastern Europe, Morocco, Turkey, Israel, Cyprus, Jordan, and Egypt.
8. Ryanair
Website: https://www.ryanair.com/
Ryanair is one of the most well-known low cost airlines around the world, but unfortunately, it is known that the passenger onboard must pay extra fees for things like luggage.
You can buy your tickets on Ryanair via credit card, reserve seats, and reissue boarding passes according to the company's website, as these advanced methods are used as a way to encourage people to travel in a simple and low-cost way.
Fly through different cities across Europe, Morocco, Cyprus, and the Canary Islands.
9. FastJet
Website: https://www.fastjet.com/
If you are looking for an affordable way to explore more in Africa, FastJet is the first budget airlines in Africa, domestic flights start at $ 20 one way, but be sure to bring a snack because the flight time is short between cities, do not offer refreshments on board Plane at this time.
It flies from three international airports in Tanzania, Dar Al Salem, Kilimanjaro, Zanzibar, and Mwanza Regional Airport.
10. Hawaiian Airlines
Website: https://www.hawaiianairlines.com/
Hawaiian Airlines began non-stop flights from New York City John F. Kennedy International Airport last June, and the fare is $ 400 round-trip. Also available from California, Oregon, Washington, and Arizona, and connecting the continental United States to the Hawaiian Islands at competitive rates, the company provides connections to other South Pacific islands and parts of Asia, making the dream of a journey across the Pacific within reach.
Honolulu, Hawaii, is its main hub, and you can move from the island to other Hawaiian islands, Kauai, Maui, and a large island, or the Philippines, Japan, South Korea, Tahiti, Singapore, Australia, and American Samoa.
 11. Tiger Airways
Website: https://www.tigerairtw.com/
Tigerair Taiwan is one of the best budget international airlines, offers ultra-low fares to explore a new city, a network that spans more than 50 destinations in 13 different countries across Asia and the South Pacific.
It operates throughout Australia, Tasmania, Indonesia, India, Cambodia, Thailand, Taiwan, China, and the Philippines; Singapore, Kuching, Macau.
12. Jetstar Airways
Website: https://www.jetstar.com/
It is an Australian airline with its headquarters in Melbourne and has been selected 5 times as the best low cost carrier in Australia and the Pacific.
Would you suggest your favorite budget international airlines to our readers? Please share and comment if you like the article? 
Save It On Pinterest