How To Visit New York In Two Days?
I will not lie to you: it is impossible to visit all the tourist attractions in New York in just two days! The best way to visit the Big Apple is to plan a full three or four days Itinerary.
However, when I visited New York, I just had two days. So, how can you finish New York Itinerary for the first time in two days? The first challenge is deciding which places to visit out of all the popular sites in New York, museums, parks, the most beautiful avenues, monuments.
The second challenge is after you've found the must-see destinations in New York, is to arrange them so that you spend as little time as possible by creating two perfect walking routes.
What Should You See In The 2 Day New York Itinerary?
During those two days of visiting New York, I wanted to concentrate on my trips to Manhattan. Other New York areas (Brooklyn, Queens, Staten Island, etc.) are certainly worth exploring, but I'll save them for my next visit…
Following that, several museums and church tours were canceled in order to concentrate on New York's most famous sights. It was important because there are so many museums in Manhattan that it would be difficult to visit them all in a couple of days. Particularly when the lines are never-ending, even with skip-the-line tickets.
Day 1 – when discovering downtown south of Manhattan to times square (downtown);
Day 2 – when discovering Midtown North Manhattan (Uptown).
Highlights Of New York – Day 1
Here is the list of must-see attractions in New York that I choose for the first day of my walking trip.
Battery Park
statue of Liberty
Ellis Island
World Trade Center
September 11 Memorial
Empire State Building
Chrysler Building
Grand Central Station
St. Patrick's Cathedral
Rockefeller Center – Top of the Rock
Times Square
Broadway
This first day's tourist route encourages you to see New York's most iconic destinations, which are grouped together from southern Manhattan to downtown. You will easily do this on foot and you can walk for an hour in the morning and an hour in the afternoon, albeit in well-coordinated stages.
The Statue Of Liberty
The walking trail starts in southern Manhattan with a visit to the must-see Statue of Liberty.
To get to Liberty Island, go to Battery Park Pier A(also known as City Pier A) and board the ferry.
I recommend that you head to the dock as soon as the ticket offices open at 8:00 a.m. Be careful to choose a ferry ticket that allows you to go to the two islands (Liberty Island + Ellis Island), and stay there for as long as you want which gives you access to the base of the Statue of Liberty. 
You'll be on the island at 9:30 a.m. to see the Statue of Liberty, which France gave to the United States of America as a gift on July 4, 1884. You can go up to the observation deck (sixth floor).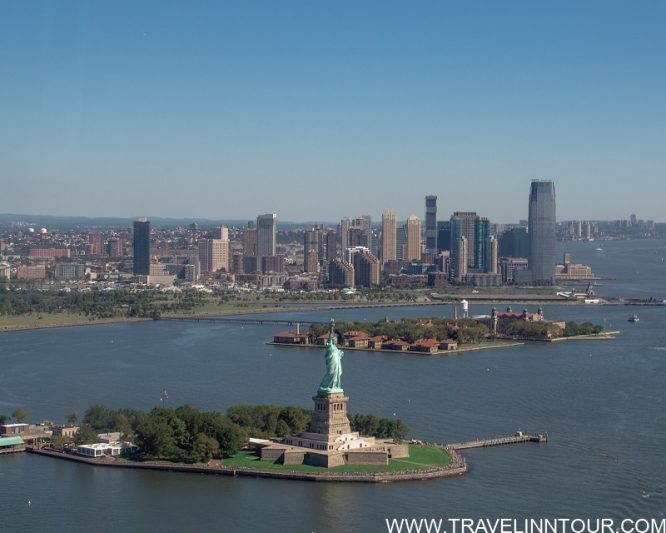 Ellis Island
From Liberty Island, you'll take the ferry to Ellis Island. You can visit the Immigration Museum, which traces the journey of foreigners who arrived in the USA during the nineteenth and twentieth centuries. From Ellis Island, you will enjoy a wonderful view of the Statue of Liberty and the huge skyscrapers of Manhattan.
Ground Zero
New York history witnessed a shocking and dramatic incident with the terrorist attacks of September 11, 2001. My Tour now takes us to see the much-changed World Trade Center district but has in mind this tragedy (15 min walk). To follow my way on foot, you have to take the Zero point direction:
Hudson River Greenway;
By visiting the September 11 Memorial & Museum; It passes in front of Oculus (shopping mall in the form of large white wings + train station); Getting there is One World Trade Center.
One World Trade Center
You can admire the One World Trade Center that opened in 2014. This 104-story tower bears the same name as the original North Twin Tower of the World Trade Center.
My schedule for today leaves no time to visit the 9/11 memorial. However, if you have time, visit see the 9/11 Memorial. These are two huge pools of very original waterfalls located exactly where the Twin Towers are.
2 Day New York Itinerary – First Day Afternoon
From Ground Zero to the Empire State Building
To walk from Ground Zero to the Empire State Building, you can walk from The Oculus back to Broadway.
For the metro, you will need approximately 30 minutes to take Red Line 1 to the Cortland(formerly known as Cortlandt Street) World Trade Center station and exit at 34 St. Ben station.
Or by taking a big bus to the downtown circuit.
New York In A Day – Empire State Building
In the heart of Manhattan, you'll arrive at another prime location in New York: the Empire State Building.
Take the time to go up to the 86ème floor and enjoy the Belvedere. The view is impressive on the whole, on Manhattan Island and much further afield (Central Park, Brooklyn Bridge, Chrysler Building, Statue of Liberty …).
New York In A Day – Grand Central Terminal
If you have time, a quick trip to the Grand Central Terminal is well worth it (lines 4, 5, 6, 7,) this station was rebuilt on the old Grand Central Station of 1871 and has retained impressive architecture and an impressive hall of dimensions.
The Chrysler Building
The Chrysler Building in New York City is listed among the top 10 in the list of America's Favorite Architecture by the American Institute of Architects. The 77-story Chrysler Building is the iconic New York City image, easily recognizable in the sprawling New York City skyline due to its glimmering summit. If you want to have a closer look, the Chrysler Building is right next to Grand Central Station. In just 3 minutes walk on 42nd Street towards Lexington Street, you'll be at the foot of this legendary skyscraper!
St. Patrick's Cathedral
10 minutes walk to now reach St. Patrick's Cathedral. Here is the largest Gothic-style Catholic cathedral in North America. Another must-see site on your first visit to Manhattan!
Rockefeller Center – Top of the Rock 
Famous Cultural Landmark
The New York Walking Route takes us to a 5-minute walk to Jusqu'au Rockefeller Center between Fifth and Sixth Avenue. The Rockefeller Center is one of the most important entertainment centers in the city, where tourists and locals meet on a daily basis, Rockefeller Square may be very crowded, But it is worth a visit because it has various means of entertainment. Top of the Rock is another legendary New York observatory, located on the 70th floor of the skyscraper Building, it allows you to enjoy a breathtaking view of Manhattan that includes the Empire State Building!
Times Square – Broadway
My New York Walk itinerary ends on day one in Manhattan's most popular area: Times Square. Located between 7th Avenue and Broadway, in the evening or at night you have to go there to enjoy the sparkling, festive, light, and the very special atmosphere that reigns there!
If you're not too tired, you can extend the evening as there are many theaters on Broadway …
2 Day New York Itinerary – Second-Day Tours
Here is the list of must-see New York attractions I chose for the 2nd-day walking tour.
Times Square
The Museum of Modern Art
Central Park – Arch Bridge
Guggenheim Museum
Cathedral of St. John the Divine
Harlem with the Apollo Theater
On this second day in New York, I will start my tour from Times Square to go to the Harlem area. This is about an hour of walking in the morning + one hour of walking in the afternoon.
The second day's points of interest are more "Cultural" than the first day's because it has two museums that must be on your list.
Museum of Modern Art (MOMA)
For this second day in New York, I recommend that you start by visiting MOMA. The Manhattan Museum of Modern and Contemporary Art is located a 12-minute walk from Times Square on 53rd Street. Many of the world's great masterpieces are collected there such as:
Campbell Soup Boxes by Andy Warhol
Dance by Henri Matisse
Starry Night and Olive Trees by Van Gogh
The Bathers by Paul Cézanne
Central Park – Bow Bridge
A 10-minute walk from MOMA takes you to the entrance to Central Park. I advise you to take a short walk to Bow Bridge to feel the green heart of Manhattan …
Then you can continue on foot from Central Park and arrive in 20 minutes at the Guggenheim Museum.
Guggenheim Museum
The splendid Museum of Modern Art located on Fifth Avenue in the Upper East Side, Guggenheim is the most famous museum created by the Solomon R. Guggenheim Foundation.
Harlem by Big Bus (approx 1h 15m)
The famous Big Bus tour bus offers a Harlem tour that allows you to discover the basics of Harlem and the very elegant West Side.
When seated comfortably in the bus, you can see beautiful buildings everywhere in Central Park, and the Musée d'Histoire Naturelle, the Cathedral of Saint John, and the mythical Theater of Apollo in the heart of Harlem. Of course, you can stop where you want and take the big bus to continue the big tour.
New York In Two Days – New York Explorer Pass A Good Deal
Entrance prices to major New York venues are quite pricey if you purchase them at the on-site ticket office.
My best plan to visit New York is to take the New York Explorer Pass. This card allows you to visit New York attractions that interest you sometimes saving up to 50% such as, among other things, the following locations:
The September 11 Museum

Empire State Building

Top of Rock Observatory

Statue of Liberty + Ellis Island

One global observatory

Metropolitan Museum of Art

Rockefeller Center

New York Hop-On Hop-Off Tourist Bus (the big bus)
When purchasing the New York Explorer Pass, you will have a guide, detailed maps, opening hours … Please note that it is up to you to choose the attractions that will be included in the card. If you want to complete my two-day program, you will need to choose at least two large attractions, the Statue of Liberty + Ellis Island, and the Empire State Building.
Best Area In New York To Stay
When visiting New York, lodging costs a lot of money. To avoid wasting time on transportation, staying in a hotel in the heart of Manhattan is the best choice. As a result, you can comfortably complete the 2 day New York itinerary on foot!
For those who prefer to rent an apartment, I do not recommend Airbnb as it is illegal in New York. On the other hand, I recommend hotel apartments because their rooms, studios, or suites are fully equipped for long stays.
Club Quarters Hotel, Grand Central, is located in Manhattan in the Midtown area within walking distance of major museums and restaurants. Grand Central Station, Rockefeller Center, and Times Square are 10 minutes' walk away.
That's all for now. Hope you enjoy this tour? Please share and do comments. 
Save It On Pinterest