Passionate travelers know how important it is to have a good itinerary. With a good look at the map, a solid transportation plan, and most importantly, fantastic activities. If you are looking for a 10-day vacation to recoup and relax, few destinations can beat Switzerland. With its magnificent Alps, stunning sceneries, pristine lakes, quaint alleys, and myriad fun activities, a trip to Switzerland is a dream come true for all tourists and adventure lovers.
This country has so much to offer that often, the stress of itinerary planning is too much for some. However, you can rest easy. Our 10 day Switzerland itinerary will help you experience the best of this country's charms.
Our 10-day itinerary will take you through stunning snow-capped mountain ranges, thrilling cable car rides, top snowboarding/skiing destinations, alley walks, and places to savor the best Swiss chocolate, cheese, and wine. Our itinerary will take a slightly leisurely pace to help you enjoy all places of interest to the maximum and soak in the culture. You will generally spend around two nights in each location except during the start of the trip.
 It is highly recommended that you buy the 8-day Swiss Season Pass. With it, you can enjoy the Schynige Platte belle époque railway, the steamboat across Lake Lucerne, the steepest cogwheel train on Earth to Mt. Pilatus, and a handful of scenic cable car rides for free! The season pass also gives a discount for the Gornergrat in Zermatt to experience the splendid Matterhorn up close, free access to many museums, and boat rides.
10 Day Switzerland Itinerary – How To Plan Your Switzerland Vacation?
Day 1 and 2
Geneva
The place where you start your trip will vary, but also set the tone for the rest of your stay. Most travelers recommend starting in Geneva or Zurich because major cities serve as transport hubs. 
Geneva is the most common entry point to Switzerland. It lies right on Lac Leman (Lake Geneva), one of the most pristine lakes in Switzerland. Even though the city is large, it has a serene feel to it. Known for its gorgeous lakes and fancy watches, you can also find some fantastic chocolate in its alleys. This city is a haven for the artistically inclined and history geeks with its Musée Ariana and Red Cross, and Red Crescent Museum.
Explore this beautiful city with a walking tour, to begin with. Cover the famous Jet d'Eau (one of the tallest fountains in the world), the Flower Clock, St. Pierre's Cathedral old town and city center. Additionally, the Treille Promenade and UN headquarters are also great sights. 
Starting in Geneva offers you a unique opportunity to stick around Lake Geneva for a little longer, and nature lovers will undoubtedly enjoy the lake.
It's only a short train ride away from Geneva, and it's well worth seeing. What's more, those who love medieval castles will be thrilled by the Château de Chillon, and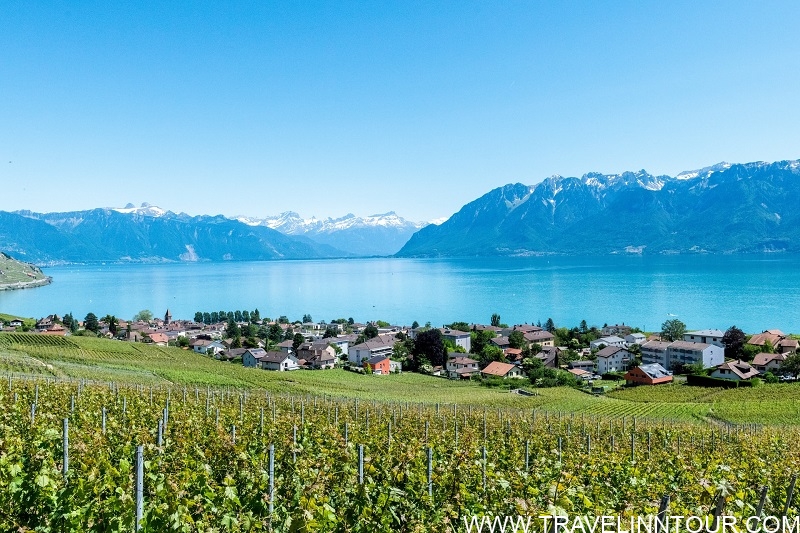 Where To Stay: 
For budget accommodation- Geneva Hostel, mid-range- ibis budget Petit-Lancy, and luxury- the Mövenpick or Hotel de la Cigogne. Note that all these accommodations come with a free breakfast and travel card (great when you've not activated your season pass yet).
The next day, you can use Geneva as a base for travel for some super day trips depending on your interest. For the second day in Switzerland, it would be ideal to visit the city of Montreux, located near the lake.
Gruyères- for the Golden Express (Switzerland's most famous train), mountains, chocolate, and cheese. 
Annecy (France)- a beautiful town with canals and Vieille Ville. A quaint old town.
Chamonix (France)- a popular skiing and snowboarding destination with delightful architecture and stunning views. In season you can enjoy winter sports here. Don't worry if you are not carrying any equipment. You can rent anything you can think of, from snowboards to the best women's snowboarding boots!
Day 3 Switzerland Itinerary
Montreux
The beautiful lakeside town of Montreux has one of the most incredible settings, with Lac Léman in the backdrop. Though only and an hour's train ride away from Geneva*, it is calmer and more pristine, an ideal place to relax with wine or coffee after the previous day's exertion. If you are up to it, visit Chateau de Chillon, a stunning island castle, Chaplin's World, and a scenic train up to Rochers de Naye. You can then wind down with a lakeside promenade walk.
Where To Stay: 
For budget accommodation- Montreux Youthhostel, mid-range- Le Coucou Hotel (though a little distance away from Montreux, it has stunning views), and luxury- Fairmont Le Montreux Palace with stunning architecture.
Day 4 and 5
Lauterbrunnen
The journey from Montreux to Lauterbrunnen valley* takes about 3 hours and is very scenic. Get an early start to soak in the beauty. This quintessential Swiss town is one of the cheaper places to visit in Switzerland- a favorite among backpackers. Once you get there, spend the day enjoying the village and the two waterfalls right in the middle of the town. Take a stroll to enjoy the traditional wooden architecture and discover hidden eateries and shops.
Start early the following day with a scenic cable car and train ride to the car-free village of Mürren via Winteregg*. Enjoy the gorgeous views overlooking Lauterbrunnen Valley dotted with cows. Once there, hike down to Gimmelwald and check out the Honesty Shop- a shop based entirely on trust. If you are tired by now, take the cable car to Trümmelbach Falls on the outskirts of Lauterbrunnen. Spend a couple of hours exploring these powerful glacial waterfalls churning their way through the mountain. From there, it's a short walk to town.
Where To Stay: 
For budget accommodation- Schutzenbach Backpackers (great view and location), mid-range- Hotel Staubbach (waterfall view and convenient location), and luxury- Hotel Silberhorn (panoramic view of Jungfrau mountains and an Alpine-style restaurant).
Day 6 and 7 
Lucerne
Lucerne is 3 hours and 3 connections away by train from Lauterbrunnen*. Again, the route is scenic, so ensure an early start. This lovely, walkable town has plenty to offer. Check out its famous landmark, the Lion Statue of Lucerne. Next, explore the gorgeous 14th-century bridge, Kapellbrücke. Wind off with a half a day trip to Mount Rigi or Mount Pilatus. Both these places are close by and offer stunning views of Lake Lucerne and hiking opportunities. Take a stroll in the evening in the Kornmarkt or lake promenade.
The next day using Lucerne as a base, you can take a day trip to Mount Titlis.
A must-visit for those who love the snow. It has snow even in summer! If you love winter sports, don't forget to pack your skiing or snowboarding equipment. You can enjoy the Rotair revolving cable car ride, check out the Glacier Cave and Europe's highest suspension bridge – the Cliff Walk!
Jungfraujoch- A must visit for the Bernese Oberland experience. Here too, you get to play in the snow, check out the Aletsch Glacier and get to stand on the "Top of Europe."
It would be ideal to prolong the visit to the Jungfrau region and keep exploring the Alps. There are some popular hiking trails you could take from Grindelwald. A cable car can take you to Mountain peek, where you can choose one of the many hiking trails available. If there is enough time do not miss the golden round trip from lucerne: Mt. Pilatus tour.
One of the most popular ones is undoubtedly the Bachalpsee  Lake Lift, which is a round trip that takes about 2 hours. However, there are a lot of other activities in the first place, so make sure to get to know the area well.
If mountains and snow are not your cup of tea, you can spend the day by visiting the cities of Bern, Basel, or Zug, easily accessible with your travel pass.  
Where To Stay:
For budget accommodation- Lion Lodge or capsule hotel lucerne, mid-range- ibis Lucerne, and luxury- Hotel Schweizerhof (beautiful views and Finnish sauna).
Day 8 and 9 Switzerland Itinerary
Zermatt
You can reach Zermatt in around 3 hours train travel from Lucerne*. Taking full advantage of the Alps, you should take the opportunity to get higher altitudes. Zermatt is a great starting point for that, as both Matterhorn Glacier Paradise and Gornergrat are easily accessible from there. Stroll around this sleepy town and check out the Walser architecture or the Matterhorn Museum. Pay your homage to daring mountaineers who succumbed to the Alps in the Mountaineers' Cemetery. Try out the 9-kilometer Five Lakes Hike (which takes 3 hours to complete) and finish the day with a relaxing evening testing the various excellent little eateries.
There is a lot to do in Zermatt if the weather is nice enough. The next day, head to Gornergrat for some stunning views to end your 10-day Switzerland itinerary on a high.
Where To Stay: 
For budget accommodation- Matterhorn Hostel, mid-range- ARCA Solebad Wellness & Spa, and luxury- Romantik Hotel Julen Superior.  
Day 10 Switzerland Itinerary
Departure from Zurich
Your last day should be a complete one, and Zurich is the perfect place to spend it at. Use the time to see the many historic sights, such as the churches of Grossmünster and Frauenster. It takes three hours to reach Zurich from Zermatt*. You can explore Bahnhofstrasse– the most expensive street in Europe, do some fine dining, and relax at Lake Zurich before you depart Switzerland.
Some quick tips to conclude-
– Book hotels in advance.
– Get an 8-day swiss travel pass.
– Take some extra layers for warmth.
– Use the SBB app for figuring logistics.
– Check if your travel pass is valid for the places you visit.
– Have alternatives. Quirky weather renders some mountain destinations unfeasible to visit.
– Plan the time of visit according to the activities you'll partake. For winter sports, December to March is best.
– Carry enough local currency (Swiss Franc).
– Pack lightly.
– Check for kitchen access. Food can be pricey.   
– Lastly, try to plan your trip early or late in the season to avoid crowds and get better deals.
* indicates free travel with the 8-day season pass.
Whatever you choose to do in Switzerland, you are going to have the time of your life. Just remember to carefully plan your activities, transportation, and length of stay. This is a guarantee that your vacation is hassle-free and truly relaxing, as it should be. 
Hope you will find this 10 day Switzerland itinerary useful, Please do comments and share with friends if you like the article.
Save It On Pinterest