New York in August is especially beautiful and typically a great time to visit. Yet, even without concerts, and other large events, your time in NYC will not be boring! Below, we have summarized the best things to do in New York this August.
The 28 Absolute Best Things To Do in August in NYC
For those of you who either live in NYC or visit NYC in August, we've compiled the ultimate list of things you can actually do!
While exploring the city, please be sure to always follow the guidelines: stay at least 6 feet away from others and wear a mask whenever that is not possible! The better we do right now, the sooner we'll get over this and can enjoy NYC to the fullest again!
1. Smorgasburg in Williamsburg
Probably the most famous outdoor food market is back – here you can eat and drink in a stylish and creative environment. It's now not only in Williamsburg (the most famous location), but also at the World Trade Center, Prospect Park and in Jersey City.
Read our article on Smorgasburg to find out more.
2. Sail around the city
Many of the sailing cruises have already reopened and are back to the rivers of New York City. Sailing in New York City is one of my favorite things to do during the summer. There's nothing better than watching the sunset and enjoying a glass of wine onboard. Here are some amazing options that are taking place right now, with safety measures of course:
3. Bryant Park Film Festival and Bryant Park Picnic Performances
One of the best things to do in August in New York is visiting the free Bryant Park Film Festival and picnic performances in Bryant Park. In the heart of Manhattan, people gather in the summer months with blankets and chairs they've brought themselves to relax at the outdoor movie theater and concerts by the New York Philharmonics. Bryant Park is just under a 5 minute walk from Times Square, surrounded by tall trees, so it's a bit secluded from the rest, but you're still in the middle of it all: Awesome!
You can get a seat from 5pm, the films start around 8pm as darkness falls, and the Philharmonic concerts 7pm. You can find out more about the events and the free concerts here with us and on the Bryant Park website.
4. Shakespeare in the Park
At the Delacorte Theater you can see one of the most famous plays in the world in Central Park. Sounds crazy? Well, it is in New York! In recent years, some stars have made it to the stage as well. Stop by and you might see Meryl Streep, Kevin Kline, Al Pacino, Blythe Danner, George C. Scott or Denzel Washington.
Find out more about the Shakespeare in the Park event in New York and the current dates here.
5. US Open Tennis from August 30 to September 12
The US Open will take place at Flushing Meadows-Corona Park in Queens from August 30 to September 12. Tickets can be found here. Again, hurry, because the tickets are very popular and sold out quickly.
6. Restaurant Week in New York (July 19 – August 15).
Restaurant Week in New York is especially popular among locals. Why? During this week you can visit the best restaurants in the city and eat for a fixed price, which is significantly lower than the regular prices of the restaurants. We've written a detailed article about Restaurant Week in New York for you, with all the dates & info you need to know!
7. Recharge and Soak up the Sun in Central Park
Especially in the summer months,  Central Park is NYC's beautiful backyard. You will find many people using green space at all times, playing sports, having a stroll, or just soaking up the sun. It is great for the hot and sticky days in August, as you will always find some shade to rest a little. Many New Yorkers use the green field to lounge, relax, and escape the big-city bustle for a while.
Check out our article about Central Park, to find out where to go for the most beautiful places to relax and enjoy the tranquility while of course practicing social distancing.
8. Free Kayaking on the Hudson River & East River
This is a really cool event that can be booked several times a month: discover New York from the water – and even better: from a kayak! You can start at the Manhattan Community Boathouse (Pier 96 at the Hudson River) or at the Brooklyn Bridge Park between Pier 1 and Pier 2 (every Wednesday, Thursday and Saturday until the end of August).
Seats are limited, so be quick to secure your preferred date – here for the Manhattan Community Boathouse and here for the Brooklyn Bridge Park Boathouse.
9. Rooftop Wine Tasting with Rooftop Reds
On a Brooklyn Navy Yards rooftop, you can sit in a real winery: Rooftop Reds grows wine here, which is available to taste. You definitely have to check out their Rooftop Red Tours & Tastings – that is really unique in New York.
You can find the events on the Rooftop Reds website.
10. Spend a day at one of NYC's beaches
New York's summer is not only hot but extremely hot! Heatwaves are not uncommon in August, making NYC's beaches the perfect escape. You can either choose to head to Coney Island or the Rockaways by ferry if you want to stay in New York City. If you choose to do so, be sure to get an early start.
This is our article about the 10 best beaches in New York.
11. Explore Governors Island
Governors Island is one of our favorite places in New York City. Especially in the summer, it's a lot of fun to explore. Being completely surrounded by water, you can count on a fresh breeze. Our tip would be to rent a bicycle (or even tandem, if you dare!) to ride around the island. It's much more comfortable than walking. Even though you can only explore the outdoors, there's still a lot to do: have a picnic, ride on NYC's longest slide, chill out in one of the hammocks, climb up the hill to enjoy gorgeous views of Lower Manhattan and the Statue of Liberty, take a look at Fort Jay, enjoy fresh lemonade, or even go glamping for anything between $200 and $600 a night. Be sure to reserve your ferry tickets in advance as capacity is limited to ensure safe distances.
12. Honorable William Wall
This is my discovery of the summer in New York – the floating boathouse from Manhattan Sailing Club! It is called Honorable William Wall and is located right next to Ellis Island. Especially in the evening, when you look at the illuminated Manhattan, it is just sensational here.
This is my review (AWESOME!) of the Honorable William Wall.
13. Take in stunning views from a rooftop bars
What is summer in NYC with rooftop bars? Luckily, some rooftop bars have already implemented safety measures and are able to welcome back guests, letting us combine amazing views with refreshing drinks.
Here you can find the 43 Best Rooftop Bars in New York
14. Jazz at Pier 84
Every second Wednesday in August, the concert series "Jazz at Pier 84" takes place – New York and jazz are a combination that I personally like a lot. You sit at the Hudson River and the best part? It's even free because it's a project of Hudson River Park and the Jazz Foundation of America.
To see exactly which act will be at Pier 84 in New York at the time of your trip, check out the event calendar.
15. Summer Streets
On the first three Saturdays in August, large parts of Manhattan between the Brooklyn Bridge and Central Park will be closed to cars. During this time, Park Avenue is closed so that people can jog, walk and bike on these streets of New York. It is a great street festival with events and lots of exciting perspectives on New York.
More details can be found here.
16. Visit Little Island
Not far from the Meatpacking District and the High Line, Little Island is one of the newest attractions in New York and is something very special: a park on 132 beautiful tulip-shaped concrete stilts in the Hudson River.
Besides the view, you can visit various events and art exhibitions (every day except Tuesday). Click here for the Little Island event calendar.
17. Restaurant Week in New York (July 19 – August 15).
Restaurant Week in New York is especially popular among locals. Why? During this week you can visit the best restaurants in the city and eat for a fixed price, which is significantly lower than the regular prices of the restaurants. We've written a detailed article about Restaurant Week in New York for you, with all the dates & info you need to know!
18. Visit the new Hall of Gems at the American Museum of Natural History
More than 5,000 new exhibits from 98 countries await you in this fascinating new exhibit, officially called the Allison and Roberto Mignone Halls of Gems and Minerals. Truly impressive!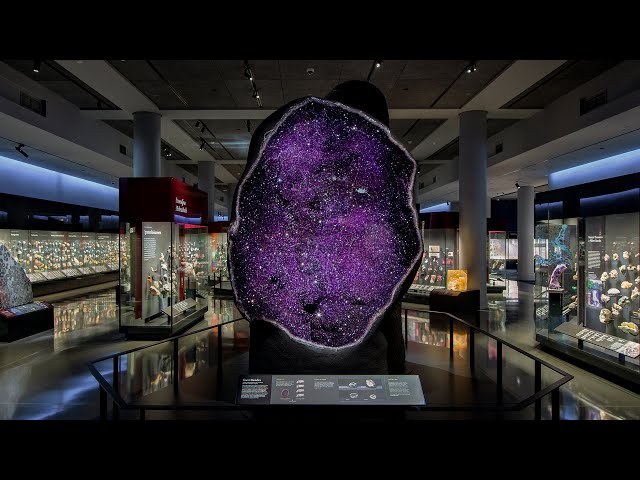 This is our article about the American Museum of Natural History.
19. Summer Stage Festival
At this event you can visit over 100 concerts & shows for free in many parks all over New York. It's one of the most popular summer events in New York and a MUST DO for locals. If you're in New York this summer, be sure to check out one of the shows – the exact dates and hours can be found here.
20. Watch a baseball game in New York
Baseball is part of the summer in New York. Whether it's a game of the New York Yankees or the New York Mets, both baseball teams are definitely worth a visit.
A cold beer at Yankee Stadium, light rays of sunshine – it almost makes you feel like a real New Yorker, doesn't it?
21. Take in the maritime atmosphere at Grand Banks
New York is surrounded by water, giving it plenty of waterfronts to enjoy breathtaking views. You should absolutely take advantage of NYC's waterfront in the summer! Whether you're walking along Hudson River Park or want to grab a meal, it's an absolute must-do in NYC in August. Our favorite summer location is Grand Banks because of its maritime atmosphere and super delicious food! If you decide to go to Grand Banks, try to get there a little before the golden hour.
This is my favorite spot in New York City!
Read more about Grand Banks – or check out Pilot Brooklyn!
22. Escape the heat by visiting a museum
August in New York can be incredibly hot, so far that temperatures over 40 degrees and high humidity are commonplace. To beat the heat, you can choose to cool off at one of NYC's museums.
Looking for some inspiration? Here you can find the 26 Best NYC Museums.
23. A Day Trip to the Hamptons
For New York locals, the Hamptons are like the Baltic Sea is for Germans. Many have their vacation destinations there and head straight to the Hamptons on Friday afternoon after work to spend the weekend. Beautiful beaches, a lot of good seafood restaurants and a lot of nature can be discovered in the Hamptons. With a day trip to the Hamptons from New York, you can experience just that as well.
24. Cool off on a jet ski
New York in August is hot! So why not cool off by jet skiing on the Hudson and East River? If you take a jet ski tour you will be guided along many of New York's famous landmarks. A guide is always there and brings you to the locations where you'll have the best views. The jet skis pick up speed, which can go up to 55 mph. At that speed, you'll fly over the water. Fun and action are guaranteed, just make sure you're safe! There are several providers of these tours. Take a look at Jetty Jumpers or Rockaway Jetski!
25. A day at the pool
This is pure luxury. Lying by the pool in the summer and looking at the New York skyline! Here is my list with The 6 best Hotels with a Pool in New York. Surprisingly, there aren't that many good hotels with outdoor pools.
26. International Beer Day (August 6).
I'm a big fan of the craft beer scene and am always happy to discover something new in one of New York's many bars, especially if it was brewed in or right around New York. After all, there are several breweries in New York that are worth a visit. Therefore: cheers to you and the International Beer Day! And where you can celebrate it in New York City, you can see here in the list of the best bars in New York, the best pubs in New York or the best breweries in New York.
27. Gigantic Concert in Central Park (August 21st)
There is no exact information yet, but according to Mayor Bill de Blasio it will be one of the biggest concerts in Central Park ever. As a sign of the final recovery, so to speak!
28. Enjoy mesmerizing views from an observation deck
By August, all of our observation decks in NYC will be open again! But which one is the best? I personally really like The Edge Hudson Yards the most but you can't go wrong with any of the observation decks we have. Here you find all of them!
The weather in New York in August
Top tours in New York in August
| | | | | |
| --- | --- | --- | --- | --- |
| | | | | |
| | | | | |
| One of the most popular tours in New York during which you discover many locations from the TV series. | Great times onboard the luxurious 1920s inspired motor yacht. | Save 50% on all attraction tickets with this discount pass for NYC! | The best time to visit the Statue of Liberty is the summer. This is one of our favorite tours! | Explore the Statue of Liberty early in the morning to have the most of your summer day in NYC. |
| | | | | |
| | | | | |
| | | Promo Code: LNYOFFER | | |